TL;DR
This post serves as ratification of our updated Essential Intents for Gitcoin, as confirmed by the CSDO on October 15, 2023. Special thanks to everyone who participated in shaping these intents, as well as those who helped draft some of our accomplishments over the last year that you'll find below.
Gitcoin's Ratified Purpose & Essential Intents
Our new intents are:
Network Effects: Maximizing the network effects of our ecosystem to grow product adoption.

Prioritize the adoption of Gitcoin's products as the initial step in creating a self-reinforcing cycle of network effects. We aim to achieve a targeted growth rate in product adoption, initiating a powerful cycle of network effects.

Community First: Cultivating a community that thrives on providing positive change and meaningful engagement.

Encourage active participation, effective governance, and widespread adoption of Gitcoin's initiatives and platforms. We aim to create an environment where community members feel empowered to contribute to Gitcoin's evolution actively.

Financial Longevity: Ensuring the economic health and vitality of Gitcoin.
You can read further on these EIs and how we got there in the discussion post here.
Meme all the things
Our talented design/meme team @cici & @McKennedy also whipped up a graphic for our new North Stars - Check out an early glimpse of Gitcoin's latest brand update, reflecting our evolving ethos and the vibrant community propelling it.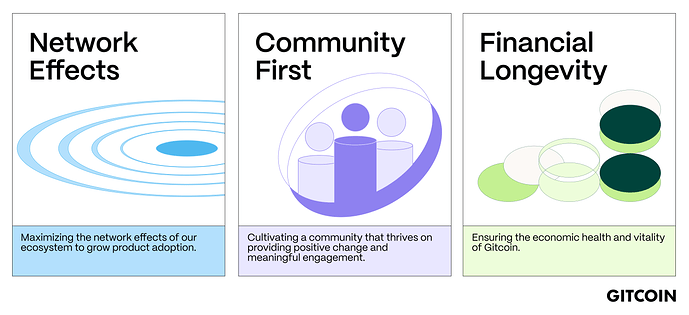 Celebrating Our Progress
A big shoutout to @meglister for helping document our achievements since the last Essential Intents were ratified. We've made noteworthy progress in Protocol Adoption, Financial Sustainability, DAO Organization, and the success of our Grants Program.
Our previous Essential Intents were focused on:
Protocol Adoption:

Building a widely adopted, modular Grants protocol.
Build a widely adopted, modular & pluralistic Passport that creates a flourishing ecosystem of network effects around a Decentralized Society.

Financial Sustainability: Having a comprehensive, diversified strategy for financial stability.
DAO Organization: Creating and promoting clear and engaging rituals and communication channels.
Grants Program Success: Enabling a successful grants protocol launch.
Protocol Adoption
On the Allo Protocol side: We launched v1 of Allo Protocol in December 2022, and it has powered every round run on Grants Stack since then. While this initial version has enabled us to run ~40+ rounds on our own grants product, feedback from the market highlighted protocol changes that could unlock additional usage outside of Grants Stack. That feedback led us to build a more modular, developer-friendly v2 in July. This version is currently in the final stages of an audit and will go live to mainnets at the end of this month, with multiple integrations in progress.
A resource allocation protocol is a core infrastructure for web3-enabled communities, and we're excited to begin implementing more applications of this technology in the coming seasons.
On Gitcoin Passport: Passport re-launched in February of 2023 and has now grown to 700,000+ wallets (passports). This has kickstarted the flywheel of user adoption, which leads to more stamps and data – which in turn enables us to improve the effectiveness of Passports. When product efficacy and user numbers both climb, we drive more interest from partners and continue to push the flywheel faster. We've seen this play out as we've started to expand the number of integrations 5x over the last 6 months with plans to double again in the next 6 months. More partners and places to use Passport will drive increased value to Passport holders.
Fundamentally we believe Sybil defense is a critical primitive within web3 and we've just begun our expansion beyond the initial roots of protecting the Gitcoin Grants Program.
Financial Sustainability
Gitcoin has substantially reduced costs over the previous year, built a financial planning model and also implemented early tests to generate revenue generation. In early 2023, we wound down two workstreams (FDD & DAO Ops) and in June we executed a RIF with OpEx cost savings that accounted for a 20% decrease in monthly spending. A small number of those contributors from the two spun down workstreams were retained, and we drove additional cost savings through resource sharing and rigorous resource planning to ensure the needs of the DAO are being met while thanking and celebrating those who helped us achieve the success we have garnered to date.
You can find an overview of Gitcoin's spending in October's monthly financial recap here.
Other bright spots in financial sustainability include revenue generation and token utility expansion. We have begun revenue experiments across Passport and the Grants Program services, and plan to generate revenue in S20/21 for Grants Stack. Passport has also generated a sizable opportunity using GTC, with over 1M GTC staked in Passport to create economic incentives to perform as a good actor. Revenue and token utility will continue to be a focus for each product workstream over the next year and you can expect to see a mix of reducing outflows of GTC while increasing the revenue generated by each workstream .
DAO Organization
We've had a rollercoaster of a year, growing and re-organizing the workstreams, community and stewards - facing some new challenges and paving our way forward with Endgame. Overall, we are leaner, more coordinated and highly aligned as a DAO. Our operating practices are improving top down and we will continue to make strides with our governance revamp and focus.
Our governance reboot will help strengthen the organization from the outside in and we have made strides on-chain to improve the efficiency and effectiveness of how our community participates in our governance. Steward councils are appropriately elected, token delegation is moving to the outer edges of the DAO and we will continue to build accountability in fulfilling our mission.
Key talent acquisitions have been made, each serving as a linchpin in our evolving strategy for running the DAO in a way that's greater than the sum of our workstreams. Following our decision not to continue recording CSDO Ops and Strategy sessions, we've shifted towards asynchronous updates. This has given our community real-time insights without requiring real-time attendance—a game-changer in operational efficiency.
Moreover, we've transitioned our team-wide calls to a bi-weekly format, liberating our talent to focus on what they do best—innovate, implement, and iterate. But we're not just keeping these innovations to ourselves. Our revamped communication strategy is designed to keep everyone internally and externally aligned and informed.
Grants Program Success
This Essential Intent spanned both the Grants Stack product launch as well as the Grants program operated by Gitcoin. As a quick reminder, Gitcoin runs quarterly grants rounds where we distribute over $1MM in matching pool funds to a plurality of projects using the Quadratic Funding (QF) mechanism.
Grants Stack
On the Grants Stack product side, we're still early in our growth curve but gaining momentum and adoption. We trialed the product internally for the Alpha and Beta rounds in February and May of 2023, and launched for external operators in June 2023. In S18-19, we have had 26 serviced QF rounds run, 7 self-serve QF rounds, and 2 direct grants rounds. Like all early-stage products, we've had some bugs and performance issues since launch, but have worked hard to learn and stay humble. We stabilized most of these experiences in late summer, and have since moved forward with building new features to improve the efficacy of the product, as well as adding new features (like direct grants) to gain additional use cases. Said differently, we are emerging with not only the learnings of the past QF rounds on the protocol, but with new funding opportunities and mechanisms for the broader ecosystem to leverage.
Program
The Grants Program has grown by leaps and bounds in terms of internal processes, user experience and levels of participation since the launch of Grant Stack and the Alpha and Beta Rounds at the start of 2023. We have increased the speed and transparency of our eligibility and review processes as well as the communication of decisions being made directly to grantees as well as the pathways to request an appeal in a timely manner. Even in the midst of the bear market we have seen steady growth in the size and scope over our grants round participation in terms of the number of donors and the amounts donated round over round. Perhaps even more importantly we have also taken big steps towards gathering invaluable metrics of our conversion rates, churn rates and other key data which will help improve the effectiveness of our program in data driven, quantifiable ways. We have taken big steps towards increasing the efficiency of eligibility and review process using Checker as well as automating messages to grantees using Absolute Labs and we have built out robust new tools for sybil defense.
The mantra continues…
This is a genesis, not a terminus. These ratified statements aim to provide a sense of the trajectory we are collectively forging. The journey towards a decentralized and lucrative Gitcoin continues, with every community member being pivotal in this voyage.