i am posting this thread to be transparent my Q3-Q4 2023 delegations.
here are my delegations as they currently stand: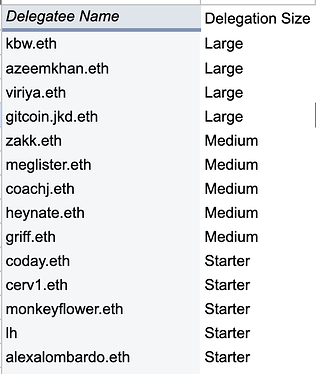 notes:
removed delegates who were inactive or disaffiliated from gitcoin.
some delegations got shuffled and reset as i was refactoring some wallets. maintaining dozens of wallets is a pain in the butt.
one thing i'd like to do at some point soon is delegate to more people who don't work at gitcoin. it's important to have outsiders holding insiders accountable (to the extent there can be insiders when every material piece of work is done publicly or is published publicly).
i am now a steward myself. delegate to me!

this is my first experience as a steward. im looking forward to dogfooding the experience. maybe ill have feedback i can give to an upcoming governance coordinator.
i will try to be mindful that the effect of having me as a steward will have + not be a bull in a china shop too much. but i also feel a genuine need to do whats best to maximize Gitcoin's Impact.
this season, i will generally be voting for things that support Gitcoins newly ratified Essential Intents and against anything that doesnt support them. i think focus is key.
i am interested in decentralizing governance of my delegations and reducing my influence at some point. i don't know if now is the right time or if in is 18 months. it'll likely happen progressively as long as i hold it as an intent.
an interesting way of decentralizing influence might be to define a formula that lets workstreams know where they stand in the gitcoin political economy. Over time, people would start to rely on the formula instead of having to maintain socialware relationships with top token holders or delegates that are unanchored to a common ground truth. people requesting tokens from the treasury shouldnt have to worry about being in the favor of the delegates. they should have to worry about the value they bring to Gitcoin.
a proposed anchor point for this formalization could be:
w₁ = tokens_locked + revenue_generated_in_usd
In the event that a product is pre-revenue their weight can be determined by
w₂ = size_of_subDAO_economy_in_usd
w₁ can we be thought of kinetic energy, w₂ can be thought of as potential energy. They can be combined as follows to get the "total energy" of a working group
w₃ = w₂ + w₁
in a world in which each product or service workstream has a weight determined by this formula, the weight (or expected future weight) governs how much resources can legitimately go to the workstream.
this is of course a hilariously simplistic example. there would be lots of little nuanced places where we'd need to find the ratio of weights between things + achieve consensus about them. but it would start to ground the Gitcoin political economy in results. and that will reduce the reliance on any charismatic leaders or early insiders or anyone who would seek to create a feifdom inside of Gitcoin.
anyway, just an early preview of this line of thinking. I may write a post about it soon.
feedback welcome
i would like to solicit feedback from you all about how i should change my delegations.
if you would like me to delegate to you, please DM me on discord (Owocki#1337) with your recommendation. or if you can comment below as long as your comment meets the forum guidelines and code of conduct.
past delegation updates from me: