i am posting this thread to be transparent my Q2 2023 delegations.
(for those of you dont know me, im kevin owocki - one of the original cofounders of Gitcoin. i started Gitcoin in my basement in 2017 and (along with early hires) took it from nothing to a brand that Joe Lubin/Vitalik Buterin have endorsed with $50mm+ in GMV from 2018-2022. in 2022, to embrace decentralization of leadership, i disaffiliated from the DAO's leadership last summer. if you check out my discourse profile or public speaking history you can learn more about me.)
here are my delegations as they currently stand: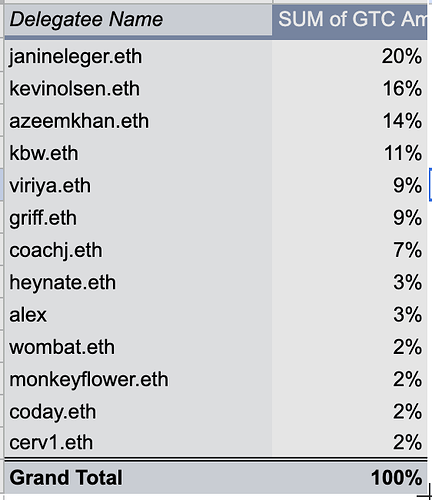 notes:
removed delegates who were inactive or disaffiliated from gitcoin.

linda xie has announced she is stepping down as a steward so i undelegated from her.
undelegated from jodi for the same reason.
janine is still involved as a steward, so keeping delegations to her as long as she is still involved in stewardship.

i delegated heavily to product/tech leaders like kyle + olsen because Gitcoin is in a place of change into a protocolDAO + product/tech leadership is needed there.

if other product/tech oriented ppl sign up for stewards governance i'd love to delegate to them too.

now that gitcoin has products/protocols in market, i see value in increasing delegations to marketing/partnership delegates.

short term that means more delegations to @azeem @CoachJonathan @Viriya . medium term, i'd love to elevate a broad swath of up and coming talent in that category.
if other marketing/partnership ppl sign up for stewards governance i'd love to delegate to them too.

i had to refactor how i do my delegations recently and as a result some of the smaller delegations from Q1 got unwound. i am planning on re-delegating them.
feedback welcome
i would like to solicit feedback from you all about how i should change my delegations.
my biggest self-criticism is that my delegations are not spread out enough. medium/long term as the protocols ossify, i'd love to decentralize my GTC voting power among more community members. my goal is to get each delegate below 10% of my delegations. here is my post on decentralizing delegations..
one practical consideration here is that i am not usually aware of what up & coming talent there is in the community. so please help make me aware by filling out this delegation recommendation form or DM me on discord (Owocki#1337) with your recommendation. or if you can comment below as long as your comment meets the forum guidelines and code of conduct.
how can we get transparency from other large holders?
i'd love to not be the only large GTC holder who posts transparency reports like this. how can we stimulate more transparency from large holders?
past delegation updates from me: