here is a preliminary look at what i'm thinking about doing for delegations this season.
i added comments for transparency reasons. but none of these thoughts should be construed as directing anything in the dao. its data not direction. in sum, & hopefully when more GTC holders start posting reports like this, stewards will have a composite picture of feedback from their constituents how they are doing in their stewardship of GitcoinDAO.
tentative s15 delegations
(right click save if you need to zoom in)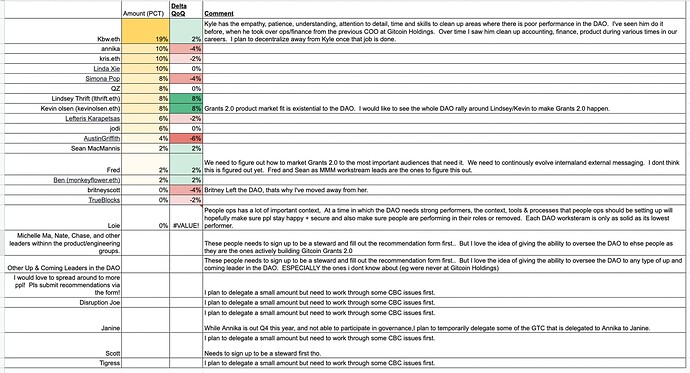 how im thinking about criteria for how i choose delegates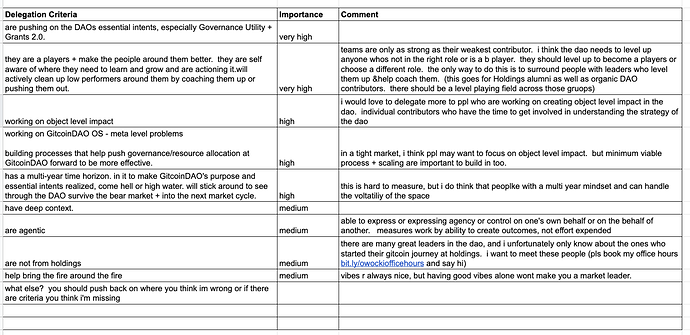 request form
i launched this form i to allow for feedback into my delegations. here is a report that shows how many requests i got + how many i acted upon

feedback welcome
i would like to solicit feedback from you all about how i should change my delegations for S15/S16.
pls come to my office hours or fill out this form if you have feedback for me (anon responses ok). or if you can comment below as long as your comment meets the forum guidelines and code of conduct.
if you have GTC you should feel free to post a similar transparency report!
for other ppl who have over 20k (ish) worth of GTC, feel free to comment below about whom you're delegating to and why! i wrote more about why this is a good idea here.
past delegation updates from me: