Gitcoin Governance Report
July 2023
Find attached the Gitcoin Governance Report. This report chronicles governance activity for the month of July of 2023 and will be the final monthly report for the execution of [GCP-007] S18 Fund Thin Governance. Recall the objective of this communication were to:
Improve governance transparency.
Provide a go-to platform for proposal and comment summaries.
Highlight a couple governance initiatives during the period
Illustrate GCP and non GCP efforts being worked on or evaluated.
July was the execution of the Steward Council, closing out my governance activities, and making recommendations for Governance going forward.
Governance proposals and performance during the period:

Links to the specific proposals:
| Close | Title | Ref doc. | $ Requested |
| --- | --- | --- | --- |
| 2-Aug | [GCP-009] Upgrade Gitcoin Governance Contracts | (link) | $0 |
| 29-Jul | Gitcoin Sponsoring MetaFest Croatia | (link) | $10K |
| 25-Jul | Gitcoin Steward Council Elections v3 | (link) | $0 |
| 7-Jul | Ratify the Results of Gitcoin's Beta Round and Request Payout | (link) | $1,250,000 |
| 4-Jul | [GCP-013] Seed Universal Impact Pools | (link) | $ 60,000 |
| 2-Jul | Withdraw and leverage (partial) USDC balance in treasury | (link) | $3,000,000 |
| 26-Jun | Gating who can make Gitcoin proposals on Snapshot | (link) | $0 |
| 14-Jun | [GCP012] - State of Web3 Grants Report | (link) | $ 17,500 |
| 7-Jun | [Proposal] - Amendments to the Steward Council | (link) | 0 |
| 23-May | [GCP-011] Funding the Commons Hackathon and Conference | (link) | $60K+100K |
| 15-May | [GCP-010] Evolving Gitcoin Grants: The Q.E.D. | (link) | $ 27,240 |
| 10-May | S18/S19 Allo Workstream Budget Request | (link) | $ 3,223,170 |
| 10-May | S18/S19 MMM Workstream Budget Request | (link) | $ 1,191,196 |
| 9-May | [GCP-008] S18 Discord Management | (link) | $ 23,400 |
| 9-May | [GCP-007] S18 Fund Thin Governance | (link) | $ 20,800 |
| 9-May | S18/19 - Gitcoin Passport Workstream Budget Request | (link) | $ 1,323,472 |
| 8-May | Season 18 & 19: Public Goods Funding Workstream Budget | (link) | $ 1,149,333 |
Top 10 forum discussions during the period by views:
[Discussion & Feedback Request] GG18 Round Eligibility
Steward Council Elections v3 announcement & election results!
QuadraticLenster.xyz Launch Wrap-Up
Revised Proposal - OpenData Community Funding (and token distribution)
Public Goods funding - The Race to the Bottom
Update on Gitcoin Workstreams and Budgets
Staking community contributions from grant rounds
Grants-ETL, a new tool to make pulling data for anti-sybil/anti-collusion analysis easier
Governance activity during the period:
Steward Council Elections:
We started with +60 potential nominees and narrowed that down to 10 candidates who were willing to serve on the Gitcoin Steward Council. With this cohort we have an exceptionally unique pool of web3, academic, and web2 expertise. Also, thanks to Azeem and Laura who helped other workstreams find great candidates. For additional background on the role of the Steward Council see this presentation here and the full announcement, nomination, and election results here Steward Council Elections v3 announcement & election results!
Read the full write up on our Gitcoin Blog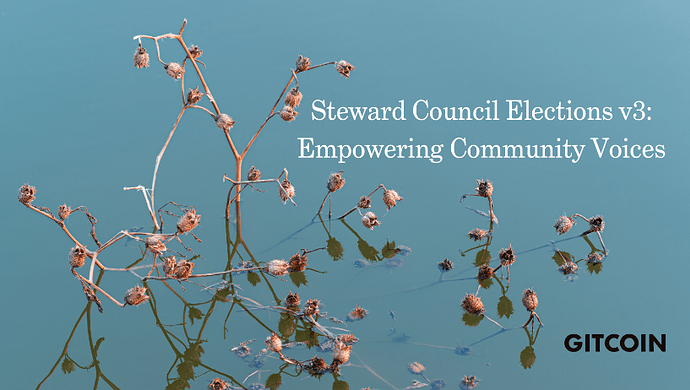 A note of thanks:
As we start up a Steward Council v3, we need to thank our past Council members. This group of 16 people met 2-4 times per month to discuss issues, share results, and gain context as part of this ongoing experiment to provide broader input to Gitcoin Leadership. These participants will be able to claim this soul bound token commemorating their dedication.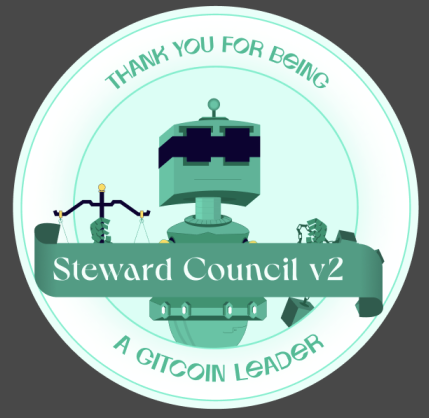 Please give this unique group of leaders a follow on twitter, and thank them for providing guidance to Gitcoin.
@DisruptionJoe @carl_cervone @DrNickA @Eugyal @notscottmoore @AnnikaSays @dabit3 @kevinrolsen @thrift_lindsey @krrisis @epowell101 @thegrifft @Sim_Pop @viriya_laura @elise_ransom @kbw and thanks to @_kylejensen for his tireless support.
Looking forward – governance recommendations:
In early July I let Kyle and Rena know that I would not be submitting a new funding request for Gitcoin Governance and that I intended to close out my time at Gitcoin with the end of S18. In preparation for this work, I built this summary of suggestions for how Gitcoin could manage Governance, I pledged my support to help transition, and reached out to several Governerds who may be interested in helping. I look forward to playing the role of a more vocal steward as I step down from my governance responsibilities.