UPDATE 23-AUG-2023: The application is live here. For now, it includes grantees in the Climate Round only and will be updated for other core rounds shortly. If you take it for a spin, please share inline feedback in the app (using

or

). As we understand the patterns of queries where there is room for improvement, we can get it to respond better over time.
tl;dr This is a brainstorming post to help iterate on an existing LLM-based prototype for GG18. It was originially built as a (personal) side-project and deployed for donors as Citizens GPT for grantee discovery during the Gitcoin Citizens Round. This project is undertaken in a personal capacity and does not involve any asks for resources or funding from Gitcoin.
What?
A conversational experience for GG18 donors to discover value and impact-aligned grantees.
Why?
An experience that matches the user's style and pace to discover content is more effective than relying solely on pre-defined information hierarchies.
How?
Prospective GG18 donors can ask more information about grantees they are aware of using this utility. Alternatively, users can share the description of work they are interested in funding to discover additional grantees. Additionally, users can ask questions about the round itself in case they need help with any aspect of participating in GG18.
What already exists?
A proof-of-concept deployed during the Gitcoin Citizens Round for donors to ask questions about the grantees and the round. For example: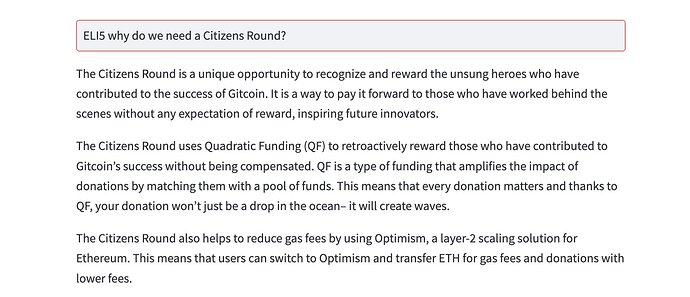 Features currently in development:
Add memory to facilitate conversations like ChatGPT
Re-direct user to single sources of truth (Gitcoin Explorer, Gitcoin Documentation, etc.) as appropriate for more information
Capture user feedback on relevancy of responses
Analytics and logging to inform content planning for future rounds
Code refactoring for granular control on the underlying abstractions to improve quality of responses (porting from GPT Index to Langchain)
What the product should NOT be able to do:
Pass algorithmic biases to influence donor for one grantee over another
Respond to any line of questioning that requires it to filter, sort or rank grantees
Timeline:
The chatbot will be available 24 hours after the start of GG18 i.e. August 16th and will be online through the end of the round
ASK: As a potential donor for GG18, what additional features would you find desirable in a "Gitcoin Grants GPT"?