MMM S18-S19 Workstream Budget Proposal
This is the integrated funding proposal for the MMM workstream requesting funding for Season 18 and S19 (1 May 2023 through 31 October 2023).
This budget request has been deeply reviewed and approved by CSDO, as well as reviewed by some of our top Stewards, namely @ale.k @kevin.olsen @kyle @ebransom and @dianarichter
For those who want a quick video (Loom) summary of the MMM budget, you can watch it here (5 mins).
TL;DR
In S18 & 19 the MMM Workstream is going to focus on one overarching north-star goal: Reposition Gitcoin as a tech-first organization (read more below)
To accomplish this goal, MMM will focus on the following strategic marketing areas in S18/19:
Bolster the narrative of our tech's impact with meaningful research and impact reporting
Drive awareness, engagement, adoption and fandom of our products (product marketing)
Continue to establish and build hype for our products and Gitcoin's overarching brand (brand marketing)
Shift existing audience perceptions through PR and community engagement initiatives
Outline
With Allo Protocol, Grants Stack and Passport out in the wild and Gitcon Grants uniquely positioned to act as a use case for our products, the DAO is heading into new territories, enabling Gitcoin to finally become a product-first organization. To support these advancements, over the next 6 months, MMM will be working to evolve Gitcoin's public perceptions to be known as a visionary, tech-first organization.
In order to fulfill this strategy marketing is, of course, necessary. However, as the next 6 months progress, we intend to continue to partner with DAO leadership and stewards to surface important conversations that span beyond the scope of marketing to achieve this goal. The scope of this proposal will solely focus on MMM's evolving role and preparedness to pivot to support emerging product initiatives.
In S18 & S19 we will be resourcing 4 focus areas that will support each of the DAO's most important things: Allo success (which includes Grants Stack), Gitcoin Grants and Passport. We believe in order to effectively redeploy our epic and trusted brand, we need to leverage a long term communications strategy that invests in:
Multifaceted PR initiatives (integrated marketing)
Intentional market research & reporting (integrated marketing)
Robust product marketing
World-class brand marketing that targets web2.5 and web3 audiences
Amount
MMM is requesting [XXX] GTC* = $1,121,200 for S18-19, excluding reserves and rolled over amounts.
Budget evolution:
| | | | | | |
| --- | --- | --- | --- | --- | --- |
| Gitcoin Season | Season 15 | Season 16 | Season 17 | Season 18 | Season 19 |
| Season Budget | $417,543 | $471,979 | $414,041 | $560,500 | $560,500 |
| Under/overspend** | $51,000 (under) | $128,000 (under) | TBC | N/A | N/A |
A full breakdown of the budget can be found at the end of this post.
*The amount of GTC requested and the value of the reserves will be adjusted based on the current market value at the time this proposal is moved to Tally using the lower of the current price or the 20 day moving average, whichever is lower.
We will be requesting our funds through one Snapshot vote, but the release of the actual funds will be split over two Tally votes (one at the start of each season) for reasons of accountability and to mitigate potential price fluctuations.
**How much more/less did we spend than the requested budget (excluding reserves)
Outcomes, Projects and Milestones
We plan to take a multi-pronged approach to orient to our north star. Below are the following focus areas for MMM in the coming months:

Public Relations & Supporting Community Engagement Efforts
Outcome: evolve existing audience perceptions and introduce Gitcoin to new audiences to build awareness and adoption of our products
Since Owocki's disaffiliation from Gitcoin, a gap in thought leadership has been felt. We are no longer known for sharing compelling visions for our coordinated future. We don't widely publicize how our efforts align with said future. These efforts are not only important for our brand equity but we think impactful thought leadership is critical to maintaining our market position and driving awareness of our products, services and renewed organizational mission. We will invest in bolstering our thought leadership efforts by building up recognizable, beloved leaders within the DAO. Moreover, MMM believes that to align with our marketing north star, these thought leaders should primarily be product-focused contributors.
In this area we intend to…
Build out our brand's thought leadership and elevate internal spokespeople (w/ focus on product teams).
Leverage media relations campaigns through hiring internal PR support to help with media outreach, new market positioning, op-ed pitching and media relationship management.
Having a strong presence at IRL events through meaningful brand activations, sponsorships, lead generation activities and support the creation of memorable, action-provoking experiences for the developer community.
Ensure our marketing channels are product-first by integrating product messaging into most of our communications.
Research & Impact Reporting
Outcome: bolster the narrative of our tech's impact & position Gitcoin as a market leader in the domain of funding governance & sybil defense
Due to the B2B nature of our tech-focused future, we need to invest in B2B sales and marketing strategies that position us as a recognizable industry leader. Tactics such as publishing (and marketing) research reports, impact reporting that focuses equally, if not more, on the impact of our tech as it does on the success of our grants program and other B2B sales enablement initiatives will be a point of focus in S18 & 19…
A note here on resourcing: MMM (or the DAO) is currently not fully resourced to meaningfully tackle this work. MMM plans to hire a contributor to help us plan and coordinate, meanwhile setting up several RFPs to do the heavy lifting of actual research throughout the seasons.
In this area we intend to…
Evolve our impact measurement strategy by working with the data guild to plan and execute a new impact reporting plan (w/ a tech focus). V2 of a yearly impact report will highlight Allo use cases, Passport case studies, protocol GMV, etc. (rather than just impact of grants program).
Drive the creation and execution of a "market research" plan by RFPing research papers that position our products as solutions to problem spaces surfaced in said papers.
Continue to create on-going hype around Gitcoin's impact with creative brand partnerships and integrated marketing initiatives.
Product Marketing
Outcome: drive awareness, engagement, adoption and fandom of Allo Protocol, Grants Stack and Passport - to further product maturity
As a team, we are very excited to bolster our product marketing initiatives that amplify the fact that Allo and Grants Stack are coming to life in the market. We intend to focus on a GTM launch followed by always-on marketing of Grants Stack Self Serve, an Allo Protocol showcase at EthCC, and an evolving Passport roadmap. In order for those and other product marketing initiatives to be a success, FT hires are being assessed and negotiated to further support this area.
In this area we intend to…
Launch and market Grants Stack Self Serve including a GTM plan and always-on marketing roadmap
Design funnels and execute segmented content marketing plans for Allo and Passport in support of DevRel efforts
Design funnel and execute segmented content marketing plans for Grants Stack in support of partnerships/BD efforts.
Subtly rebrand and/or reposition Gitcoin Grants as both our impact arm but also as a case study for Grants Stack
Benchmark marketing metrics and report on campaign success with our new marketing metrics dashboard
Continue doing the behind the scenes work to ensure our product messaging relates well to our market, including user/competitive research, user testing, product positioning, copy development, illustrations and designs, launch planning and execution, and development of sales enablement materials.
Brand Marketing
Outcome: Continue to establish and build hype for our products within their respective markets and continue to foster love for Gitcoin as a leader in web3
Last season we worked to maintain brand relevance through the unveiling of a new visual identity at EthDenver, the launch of a fresh microsite, the unveiling of phase 1 of our full website, and an NFT drop that brought in $1M to our matching pool. We have also been working with the product and partnerships teams to pivot Gitcoin's brand to more closely align with our products' visions.
This season, we will continue that work by partnering with our product teams to align our marketing brand visuals and product designs to create a more seamless experience between our marketing UX (ex: a user's journey on our website) and product UX (a user's journey on our dApps). We also plan to drive strategic realignment of Gitcoin Grants and Schelling Point brands to more closely tie together our product positioning and all external messaging.
In this area we intend to…
Work with partnerships team to create a strong brand partnership strategy and implement alongside them
Continue to flex our brand & design prowess as one of the most thoughtful and memorable brands in the Web3
Plan and execute a "micro Schelling Point" activation at EthCC to showcase Allo use cases, drive protocol adoption, nurture partnership opportunities and continue to build brand love
MMM is uniquely positioned to drive success of all 3 of Gitcoin's "3 most important things" over the next 6 months (Allo success, Gitcoin Grants success, Passport success). Our intention is to be in lockstep with each product team (including the Grants Ops team, with Gitcoin Grants being their product) to support them with OKR achievement. We will do this by having a dedicated team member embedded within each team to maximize cross-stream collaboration and information sharing.
List of S18 & S19 Goals
High-level metrics to measure how we are performing overall as a company.
| | | | | |
| --- | --- | --- | --- | --- |
| Channel | Measurement | S15 | S16 | S17 |
| Gitcoin Twitter | Impressions | 5.3MM | 4.3MM | 5.8MM (as of 2023-04-13) |
| | Engagement rate | 2.5% | 4% | 4.3% (as of 2023-04-13) |
| Gitcoin Passport | Impressions | - | 261,000 | 599,000 (as of 2023-04-13) |
| | Engagement rate | - | 4% | 3.9% (as of 2023-04-13) |
| | Follower count | - | 3,700 | 6,536 (as of 2023-04-13) |
| Email | Open rate | - | 16.43% | TBC |
| | Click-thru rate | - | 0.52% | TBC |
| | Unsubscribe rate | - | 0.29% | TBC |
| Blog | Total blog post views | 64,014 | 76,326 | TBC |
| | Avg time spent on page | 39 seconds | 50 seconds | TBC |
Detail:
Focus Area
Initiative
Metrics
Likely Deliverables / Projects
Product Marketing - Allo
Launch and continue to drive awareness and adoption of Allo Protocol
EthCC success:

20+ leads for the DevRel team
20+ leads for the partnerships team

Minimum 7 Allo case studies published

+5000 followers on Allo Protocol Twitter

TBC on metric measurements for other campaigns - more details are required

Main launch at EthCC (Schelling Point Salon)
Brand visual identity & open-source guide for Allo brand (similar to Gitcoin visual identity guide)
Soft launch on May 11
Project reputation campaign
Direct Gitcoin Grants launch campaign
Ongoing always-on content marketing
Spin up and build out the Allo Protocol Twitter account
Co-design and execute content marketing plan for Allo in support of DevRel
RFP whitepaper on community funding landscape (topic TBD)
Refresh the WTFisQF.com website

Optional work:

QV alpha launch campaign (might happen in S20)

Product Marketing - Grants Stack
Launch and Market Grants Stack Self Serve, followed by always-on SaaS marketing.
Self-Serve QF campaign metrics as per the plan

Program Operator Toolkit metrics within the first 2 weeks of launch:

3000 visits to webpage
Avg. time on page > 50 seconds
> 4 pages per visit on average

TBC on metric measurements for other campaigns - more details are required

Execute Self Serve Launch Plan
Build and launch the Grants Manager Toolkit - a top of funnel evergreen content / education microsite
Co-market & publicize high-profile serviced rounds (UNICEF, American Cancer Society, Nouns)
Ongoing always-on content marketing to drive adoption
Identify scaled service offering to market emerging serviced rounds identified by PGF

Optional work:

Create Grants Stack promotional marketing videos

Product Marketing - Passport
Boost awareness of Passport as a product and drive Holder and Community Adoption

Over 10k followers on Passport Twitter
Avg engagement rate > 4%
Passport builder email list of >2k
>20 Weekly Release Notes posted TBC on metric measurements for other campaigns - more details are required

Continue ongoing always-on marketing and announcement campaign support
Continue to build out our Passport Twitter following
Design funnel and execute a segmented content marketing plan for Passport (Web3 project leaders vs web3 citizens)
Whitepaper and/or blog posts on future of reputation management (topic TBC)

Product Marketing - Gitcoin Grants
Roll out multiple Gitcoin Grants marketing campaigns

3 million total impressions on Twitter for our main account during each round
Drive 50,000 unique visitors to the round landing page each round

Promote the July (TBC) Gitcoin Grants round
Promote the October (TBC) Gitcoin Grants round
Development of brand strategy, webpage and SSOT doc for Gitcoin Grants
Reposition Gitcoin Grants marketing communications to reflect our tech-first narrative
Develop and publish round performance case studies
Co-design and execute segmented lead gen pipelines and marketing automation processes for the BD team

Optional given time/resource constraints:

Relaunch Grantee community portal into fully functional & easy to edit website (TBD based on level of traffic vs. investment)
Relaunch GR-OG community portal into fully functional & easy to edit website

Product Marketing
Brand, launch and drive awareness of the Public Goods Network L2
TBC - details of project still incoming
Brand Marketing
Maintain high levels of brand affinity for Gitcoin and its sub-brands
WTFisQF website within the first 2 weeks of relaunch:

5000 site visits
> 30 seconds avg time on site

Finish publishing remainder of Gitcoin.co website pages
Visual Design Documentation Phase II: Publish brand x product design guide
Support Product teams with app redesigns
Updated Press/Media kit on the website (external) and within Notion (internal)

Optional given time/resource constraints:

Refresh and relaunch the Gitcoin Primer
Refresh the quadraticvote.co microsites
Development of brand visual refresh (based on aforementioned strategy) of Gitcoin Grants
Create a decentralized contribution network for artists/designers/creatives (retool bounties)

Brand marketing
Drive internal comms & external community engagement initiatives

Publish 26 Weekly DAO Digests Metalabel Record drop:

$100K raised with record drop

Publish weekly DAO Digest newsletter (previously funded in S16)
Update and maintain Notion Contributor Hub & DAO Integrated Calendar
Continue to produce the Gitcoin Community Call (formerly an activity of PGF)
Organize and launch a Metalabel Record drop

Optional projects given time/resource constraints:

Organize and launch a 2nd (or larger series of) Metalabel drop(s)
Redesign and launch the Steward section of the Community Hub in Notion
Redesign the entire Community Hub in Notion into either a) a Notion template or b) a microsite

Brand Marketing
(always on) Continue to service the DAO from a content and creative perspective

+ 90% completion rate of all design requests on time, without needing to reschedule

Fulfill on adhoc design and content requests made by DAO contributors
Update partnership decks as needed
Promote most new partnerships and all new community initiatives (ex: gtcETH, Rocketpool ODAO, etc.)

Supporting Community Engagement (GCP Funded)
Support the planning and execution of Schelling Point Conference at DevConnect 2023
Metrics will be listed for S20 when the event actually takes place

Develop brand strategy (purpose, mission, values, vision, etc. of SP) and refreshed visual identity(actual designs) for future Schelling Point events
Plan execution of Schelling Point conference in November at DevConnect (actual launch in S20)
Explore alternative funding mechanisms (outside of seeking sponsorships) (ex: GTC native ticket sales, GTC staking, etc.)

Optional work (depending on the GCP):

Experiment with a variety of IRL and virtual formats for Schelling Point with the long-term goal of decentralizing future SP events

Public Relations
Build and execute thought leadership strategy to reposition Gitcoin as a technology leader

Host 10 product-focused Twitter Spaces on Gitcoin's Twitter channel

Create a Gitcoin / Public Goods / impact brand Theory of Change (ToC) to align individual thought leadership brand building
Brand building & content plan execution for internal spokespeople (with a focus on product teams)
Create and execute a product-focused Twitter Spaces calendar

Public Relations
Media relations campaigns through building internal PR capacity to support with media outreach and media relationship management

3 media opportunities/month
1 long-form piece of content/month
2 podcast appearances/month
100% of community initiatives have press releases created & pitched to a minimum of 20 media outlets

Support with launch campaigns and high-profile serviced rounds (shared resource with PGF)
Build out internal PR capacity to support Grants Stack Services objectives and brand objectives with a new hire in S19

Research & Impact Reporting (mostly GCP Funded)
Evolve our research and impact measurement strategy to bolster b2b marketing and reposition us as an industry leader in our field(s)
Publish and market 2 whitepapers

Execute a new impact reporting plan w/ a tech focus.
Create V2 of a bi-annual-to-yearly impact report that will highlight Allo use cases, Passport case studies, protocol GMV, etc
Create and execute a "market research" plan – RFP research papers that position our products as potential solutions to problem spaces surfaced
Build out a new "Gitcoin Research" content channel or web area to highlight research & impact work
Continue to create hype around Gitcoin's impact with creative brand partnerships and marketing initiatives
RFPs and GCPs
In addition to the work above, we will be outsourcing some of our work to the broader community. This includes:
Schelling Point Conference at DevConnect 2023
Additional impact reporting & research initiative support
All parties/entities awarded funding the GCPs related to these projects will coordinate alongside MMM to ensure KPIs are met, with MMM having decision making authority on what goes/doesn't go. This is to ensure that all work produced on behalf of the DAO aligns with the rest of our brand work.
Budget Breakdown
View 1.1: Breakdown per category
The chart below is a hypothetical breakdown of the approximate amount MMM will spend on each category of work.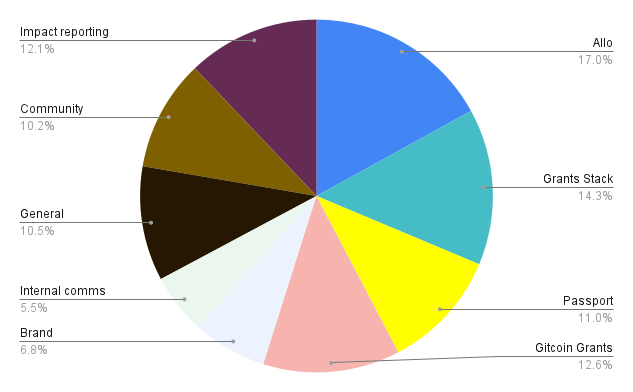 View 1.2: Breakdown per initiative and milestones
Please see this comment in the comments section for full details.
View 2: Breakdown staffing, contracting, operational expenses
What's changed:
Removing/consolidating several roles, including:

Design Ops (being taken over by Mathilda)
Impact Reporting special project (being transformed into a single coordinator role + GCPs)
UI/UX designer (will be resourced on an as-needed basis)
Analytics & growth marketing (operating at a reduced scope)

Added several new roles, including:

Impact reporting & research coordinator
Publicist
2x Designers (exact specialties TBD)
Staff writer (instead of sourcing many low-context writers)
Product Marketing Manager (to bolster our roster of dedicated marketers working on our product portfolio)
Function
Description
Amount USD
%
Full-time Contributors
Marketing Strategy Lead & Grants Stack POC – Laura

Marketing Operations Lead & Program POC – Jonathan

Passport marketing/POC, Content & Email Strategy - Gary

Senior Brand & Product Marketing Strategist, Allo POC – Alexa

Social Media & Community manager – Vermeer

Creative Director, product design support - LH

Art Director, designer & videographer – Cici

Product Marketing Manager & Strategist - TBC

Publicist - TBD*

Designer – TBD**

Designer – TBD**

Campaign Coordinator & Content Manager - Mathilda

$709,500
63%
Part-time Contributors
Designer – Gina

Designer – Harry

Technical lead – Gerrit

Impact reporting & research coordinator - Sov

Accounting & Treasury Diversification, marketing analytics – Jonas

Staff writer – Rohit

Editor – Liam

DAO Digest writer – TBC

$210,900
20%
Various other freelancers for 1-off projects***
Includes freelancers specializing in:

Video development
Animations
Additional writing support
UX copywriting
UX design

$60,000
5%
Opex
EthCC Allo Protocol Activation

EthBarcelona Allo x Endaoment activation

Creative technology licenses

IRL Sales Enablement Efforts (stickers, prints, merch, designs)

Travel expenses (3 team members x1 trip)

$83,000
7.5%
Optional Projects
Twitter Blue Subscription (allows for new subscribers to see us in their feed)****
$6,000
0.5%
Social listening software (Notus)
$1,800
0.0%
Marketing & Brand Sponsorships*****
$50,000
4%
Total
$1,119,400
100%
* A note on the publicist role: we are going to attempt to resource this as a PT role. That said, if we find it difficult to find someone willing to take on a part-time role, we will look into hiring someone FT that can take on work beyond a basic PR role. For this reason, we are budgeting for a FT role in case we require the extra budget to hire accordingly.
** A note on the designer roles: both of these roles are being budgeted as FT roles, but will not necessarily be FT. The designers we choose to work with (be it an illustrator, UX designer, graphic designer, or other) will likely be offered a small, freelancer contract at first and will bill us at an agreed-upon hourly rate. Budgeting this way gives us full flexibility to ramp up someone's hours quickly should the need arise.
*** A note on our freelancer budget: marketing requires a wide range of skills and specialties. This bucket allows us to outsource these skill sets vs. keeping them staffed in house. We have historically always had this built into our budget and have leaned on it heavily in order to meet the requests of the DAO. Like previous seasons, it is highly unlikely that we will come close to using this entire budget. That said, we want to make sure we can be agile with the demands of the DAO. All extra funds will be returned to the DAO's treasury at the end of S19.
**** A note on Twitter: we haven't fully explored whether we will pull the trigger on this. It appears that new followers will no longer be able to see our content unless we subscribe. Twitter is easily our most impactful channel and we want to make sure to preserve what we've built over the years.
***** A note on sponsorships: there have been a lot of talks internally about whether to sponsor events or not. Based on some preliminary conversations, we'd like to position MMM as the defacto owners of this budget. These funds will be used for strategically aligned opportunities that move forward on our business objectives. Our goal is not to spend the full amount of this budget, but rather have the flexibility to decide whether we should pursue an opportunity or not. Any funds remaining at the end of the season will be returned to the treasury. Any funds beyond this amount will be requested from the treasury through a GCP.
**View 3: Total request including reserves & budget rollover **
| | |
| --- | --- |
| Total [Workstream] Budgeted Spend S18-S19 | $1,121,200 |
| 33% Budget Reserves | $369,996 |
| S17 Treasury Balance, incl unspent reserves and any source of revenue* | $300,000 est. |
| Total S18-19 Request | $1,191,196 |
* Any and all revenue generated during the past season will flow back to the DAO treasury or will be rolled over to the next season.
During the season we will transparently report to CSDO and Stewards on revenue plus efforts to remediate currency fluctuations and report on these in the next budget request.
We look forward to your comments, thanks for your consideration!