Original draft posted: Jan 31
Revised draft posted: Feb 9
Integrated: Feb 14 (no changes from revised)
Please see this post for a list of what has changed from Draft to Integrated
TL;DR
In Season 17, MMM will continue its focus on a successful protocol launch at ETHDenver, supporting the relaunch of Gitcoin Grants Program, perpetuating the strength and relevance of our brand, and building awareness and educating potential users of Passport. To do so, we are requesting a budget of $414,041 (down from $471,949 in the initial draft budget).
Our top priorities for this season include:
A successful marketing push at ETHDenver, including:

Development of a microsite that will live at evolution.gitcoin.co featuring launch of Grants Stack, our new visual identity and Quadratic Funding Record release with Metalabel
Running the Schelling Point conference (with the support of Supermodular as a contractor)
A PR/media relations push (with the support of YAP Global)
Coordinated efforts around consistent messaging for anyone speaking on stage at ETHDenver & bolstering these talks with related online content to capture audiences not present at ETH Denver

Launching a new gitcoin.co website
Finalize the Gitcoin Grants Stack, Allo Protocol, and Passport branding strategies and visual identities
Launch the first version of a living Impact Report that highlights the success of the Gitcoin Grants Program
Relaunch Passport and double down on marketing/education efforts from a content and creative perspective
Provide marketing support for the Grants Program in April
Amount
MMM's S17 budget is $414,041 (-12.27% change vs S16 budget). After accounting for remaining budget & reserves, MMM is requesting $122,069 for Season 17 from the treasury.
Milestone Report
All in all, MMM performed well in terms of tracking to S16 OKRs. There were many changing priorities over the course of the season which resulted in a lot of

. There were also several

that mostly had to do with metrics that were mostly out of MMM's control. This is a great learning for the team to set OKRs directly related to outputs within our control. The goal isn't to get all

but rather aim for 70% completion to ensure we continue to set a high bar for ourselves.

Success


Incomplete but will hit goal


Incomplete, will not hit goal


Canceled
Initiative/Dept
Objectives Past Season
Key Result
Protocols
Refine product-market fit for Gitcoin's protocols.

Iterate on product branding to support a clear protocol narrative and to create compelling visual identity.

Create marketing collateral, market education, and coordinated & effective product launches.

Continue protocol audience/persona research

---

Continue competitor analysis for Grants, Project and Passport

---

Lead and create Passport Product Marketing Fit Pyramid definition for both Developers and Passport Holders

---

Launch Protocols website(s)

* These pages will not be fully complete until S17. MMM has just finalized a full marketing brief for Allo Protocol, Grants Stack and Passport, and are in the process of creating one for the Program. Information from these briefs will live, for now, in a microsite being launched in time for ETHDenver.

---

Develop influencer relations strategy (PR focused, not paid growth)

* We did some preliminary work on this and, after consulting with others in the DAO, we decided to postpone this activity. Alternatively, we will engage with YAP Global to bolster PR efforts for the Denver launch and explore incorporating more media relations for select, high-priority marketing comms campaigns.

---

Create robust product marketing plan for Passport

* Instead of a full plan, we created a launch plan based on the value proposition work we did alongside GPC. A more robust product marketing plan will be developed in S17/S18 once we validate our hypotheses around audiences, key messages and value propositions. We also experienced turnover on the Passport team which contributed to a slow down and pivot around timing.

---

Start a creative refresh for Passport and other Protocols

* Due to capacity issues and longer-than-expected feedback and review periods, we were only able to fully complete an overall Gitcoin brand visual refresh without diving into our products. Creative refreshes for our Protocols have been mapped out. These will be fully complete by our Denver launch in early S17.

---

Initiate at least 3 co-marketing initiatives with Passport integration partners

* We only managed to initiate and execute on 2 co-marketing initiatives (Orbis.club and Snapshot).

---

Publish at least 2 Passport case studies

* Case studies are currently in development and will be complete and published in S17.

---

Develop customer journey map and proposed funnel metrics for round operators and project owners (protocol)

Programs
Grow awareness and comprehension of the transition of Gitcoin Grants to the protocol.

Create awareness & drive participation for a successful Alpha round ("GR16").

Develop a communications plan to socialize our transition and mitigate risk

---

Provide minimal promotional support for the alpha round in January

---

Provide promotional support for the UNICEF round in December

---

Release 1st version of a "Grants Program Impact Report"

* We underestimated the scope of this project and lift required to execute on it. We are set to deliver this in S17 instead.

---

Begin development of a Grantee and Partner testimonial repository

* Since creating this outcome, the project was more fully scoped and it was determined that this repository would exist within the Impact Report.

---

Continue program audience/persona research

---

Support the development of an overall program & partnerships strategy

* After speaking to the PGF team on both fronts (program & partnership), we determined that it would be best to pursue this once there was more clarity on future plans for the program.

---

Create a program brand strategy & aligned visual identity

* Similar to the previous point, the changing nature of the program inhibited our ability to move forward on this outcome and it was decided that we would postpone this for the time being until a more complete vision for the program is crystalized.

---

Develop customer journey map and proposed funnel metrics for grantees and donors

* We completed the customer journey and funnel mapping for donors, but not grantees. We decided internally that doing this work for grantees is out of scope and should live within the domain of PGF.

Community engagement
Grow the Gitcoin community, deepen engagement, & improve brand affinity.
Detailed report on the outcomes of the execution of our Season 16 community engagement strategy, which will include a recounting of all the activities + links to recordings, of sessions held, surveys of community members and 1:1 interviews, and other findings.

---

Revised Season 17 community engagement strategy informed by the report's findings

* See an explanation outlined in this post on the gov forum. We intend to recommit to this outcome in S17.

---

Create and begin to execute content roadmap leading up to Protocols Launch

* On track to begin publishing in S17.

---

Finalize overall Gitcoin branding strategy, and begin implementing the relevant changes

---

Brand & creative designs for Schelling Point main event

---

Maintain an average engagement rate of 2.5% per post on Twitter

---

A series of content experiments to determine our most impactful content leading up to S17

MMM OS
Refine our OS for a thriving MMM Workstream & DAO.

We will have a world-class marketing team who is working in thriving partnerships across the DAO and in the broader web3 community.

Run an S16 peer performance review

* Holding off since almost the entire team will be meeting IRL in Denver and a similar type of review will be conducted there

---

Collect monthly OS feedback

---

Streamline "project management" process
Our S16 Wins! (index of key outputs created)
S17 Goals
To start to sensemake how we are performing as a brand, this season we are going to be setting and tracking high-level metrics to measure how we are performing overall as a company. Content metrics are based on the reporting done by our content team about email, Twitter and blog content. Please follow the link for a more detailed explanation on how these metrics came about and what they mean.
| Channel | Measurement | S15 | S16 | S17 Goal |
| --- | --- | --- | --- | --- |
| Gitcoin Twitter | Impressions | 5.3MM | 4.3MM | 5.6MM |
| | Engagement rate | 2.5% | 4% | 4% |
| Gitcoin Passport | Impressions | - | 261,000 | 500,000 |
| | Engagement rate | - | 4% | 4% |
| | Follower count | - | 3,700 | 10,000 |
| Email | Open rate | - | 16.43% | 16% |
| | Click-thru rate | - | 0.52% | 1% |
| | Unsubscribe rate | - | 0.29% | 0.3% |
| Blog | Total blog post views | 64,014 | 76,326 | 85,000 |
| | Avg time spent on page | 39 seconds | 50 seconds | 60 seconds |
A few notes for the outcomes above:
We are not overly concerned with tracking followers on our main Gitcoin account - this is a vanity metric that is not indicative of our performance
We are, however, tracking followers on our Passport account since it is a nascent account
A 4% engagement rate is incredibly high, and maintenance for next season on our main Gitcoin account is an ambitious goal
Our email open rates are well above industry average and we plan to maintain that rhythm
Unsubscribe rates will likely go up as we continue to clean and segment our list more carefully to ensure its quality
A note for the outcomes with respect to the product initiatives below:
We will be announcing Allo Protocol at ETHDenver but we will not be prepared to heavily market Allo Protocol in S17. Rather, we will be working with the Allo team clarify a GTM strategy (including determining product positioning, messaging, clarifying early success metrics) to help us determine and preemptively test and grow the appropriate marketing channels.
Initiative/Project
Metrics
Key Results / Likely Deliverables / Projects
Launch Gitcoin Grants Stack public beta at ETH Denver

EI1

Gitcoin microsite launch generating by March 6th:

* 500 unique site visits by ETHDenver attendees (±10% of attendees) and 1% of site visitors sign up to receive updates (20 sign ups)

* 5000 unique site visits by those not attending ETHDenver and 1% of site visitors sign up to receive updates (50 sign ups)

* Target Cost per signup: $100 (based on $10k build budget)

---

* Reach of "Launch" Twitter post receiving 2000 likes and 1000 RTs

* YAP Global engagement metrics ($5k spend) including vanity metrics of 1 brand feature and (vanity metrics) 10 media mentions and 5 interviews secured

* Announce and launch Gitcoin Grants Stack at ETHDenver via talks, in-person sales enablement materials and online content

* Create visual identities and guardrails for product UIs in collaboration with the GPC designers

* Finalize logos and visual identities for Allo Protocol and Gitcoin Grants Stack

* Work with YAP Global to secure media mentions and interviews for key contributors to talk about Gitcoin Grants Stack, Allo Protocol and Gitcoin's transition to a protocol DAO

Amplify and educate about Passport, establishing it as a leading Web3 identity verification tool

EI1

* 15 new projects have integrated Passport to gate their communities (a shared responsibility with GPC Passport team)

* 3 new Snapshot-level integrations

* 30 community leaders signed up to explore gating their community with Gitcoin Passport at Schelling Point Denver 2023

* Publicized marketing plan for Passport (currently only a GTM plan exists)

* Implement refresh of Passport visuals with new assets from Design Team

* 3 new case studies of projects successfully using Passport to protect their communities

* Run a Passport booth activation at Schelling Point in Denver

Promote the launch of the first full Gitcoin Grants Program run on Gitcoin Grants Stack

EI1

Note: Due to the timing of the round ending May 6th, metrics will only be verified a couple of weeks into S18

* 3 million total impressions on Twitter for our main account during the festival of rounds

* Drive 50,000 unique visitors to the festival of rounds landing page

* Execute a Gitcoin Grants Festival marketing campaign

* Create Grantee Marketing Runbook

* Set up the Grantee Portal in the Community Hub

* Light naming exercise to establish key brand elements for the festival

* Explore and test at least 1 new channel (media relations) to increase website traffic during a round

* Build out a "festival of rounds" landing page featuring all accessible rounds

Launch a new Gitcoin.co website

EI1 + 2 + 4

Launch all 17 pages of website before end of season
* Redirect gitcoin.co website to point to microsite while full site is being built and prepped for launch

* Ensure that Hackathons and Bounties is still easily accessible for Supermodular

* V1 will be ready to support the relaunch of Gitcoin Grants. We will share a phased website rollout plan before the end of Feb.

Bolster Gitcoin as a relevant, beloved, and recognized Web3 brand

EI1 + 2

Note: we'll use S17 to establish benchmarks for our "welcome series" email pipeline

* 500 purchases of our Metalabel record debuting at ETHDenver

Engagement on Schelling Point Twitter account during the event:

* 150K impressions

* 120 link clicks

* 1200 likes

* 250 RTs

* Publish Gitcoin's marketing design & content guide to enable community creators (including grantees and partners)

* Provide creative, social media and project management support and successfully run Schelling Point conference on Mar 2

* Add Protocol and updated Program info to "welcome series" email pipeline for new email subscribers

* Release our Quadratic Funding Record in collaboration with Metalabel

Deliver Gitcoin's first ever Impact Report

EI1 + 2

* 4000 page views

* 1000 unique visitors

* Minimum avg time spent on page: 120 seconds

* Release the 1st version of the "Grants Program Impact Report"

* Launch Impact Report campaign
Budget Breakdown
View: USD per Initiative/Project
| Initiative/Project | Amount USD | % |
| --- | --- | --- |
| Gitcoin Grants Stack + Allo Protocol | $60,900 | 15% |
| Gitcoin Passport & Passport Protocol | $30,000 | 7% |
| GiTcoin Grants Program | $57,300 | 14% |
| Social media and content support | $58,425 | 14% |
| Brand & creative (includes website) | $109,950 | 27% |
| Impact Report | $35,750 | 9% |
| MMM OS | $42,000 | 10% |
| Contingency | $19,716 | 5% |
| | | |
| MMM S17 Budget | $$414,041 | |
| 60 day reserves | $313,040 | |
| S16 reserves+budget remaining (est) | $568,000 | |
| Request from Treasury (est) | $122,069 | |
View: USD per Category
Budget Category
Description
Amount USD
Full-time contributors
WS Ops & Cat Herder, Program Marketing Ops - CoachJ (WS Lead)

Marketing Strategist - Allo Protocol, Steward Council Rep - Laura (WS Lead)

Content & Campaign Manager, Editor, Writer - Mathilda

Analytics & Email Marketing Lead - Jonas

Marketing Strategist - Passport & Content Strategist - Gary

Creative Director - Laura Helen

$195,750
Part-time contributors
Marketing Strategist (brand & Grants Stack) - Alexa Lombardo

Design Ops & General Project Management - June

Designer - Harry

Designer - Biux

Art Director - Cici

Design Support - Lani

Impact report co-lead & video production/animation - Armando

Impact report co-lead & data analyst - Umar

Social media lead - Vermeer

UX/UI designer - IO

Technical lead - Gerrit

Content Creators - Quinn, Rohit & McKennedy

$ 198,575
Contingency budget
Ramping up hours of part-time contributors for last-minute requests
$19,716
TOTAL
$471,949
A look at MMM Structure today and into S18
As the conversation continues around the refactoring of certain teams, MMM is acutely aware of the requests from other Workstreams to have a marketing function be more deeply embedded within their teams.
In S17, we are taking on a structure that we think will ease this tension.
The graphic below highlights our current WS structure. In it you'll see key points of contact for external Workstreams. You'll also see a "Marketing guild" (has not yet started) and a "Design guild" (already underway) - a new kind of structure that we'll experiment with as we head into a business-unit-structure future.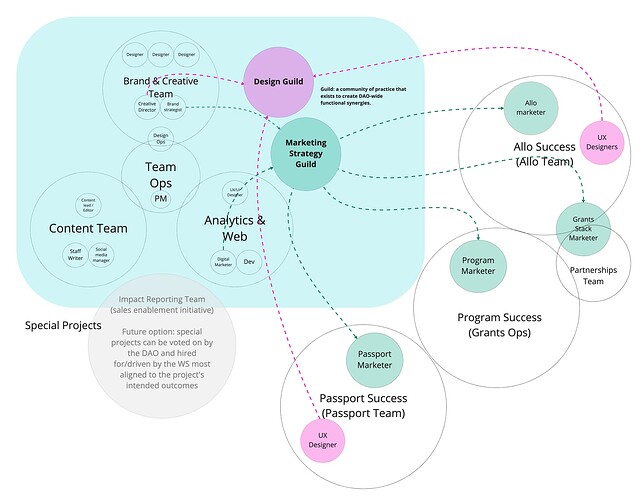 What's new:
Each product (including our program) will have a designated point of contact:
Guilds will encourage these individuals will also meet as a community of practice to support each other in accomplishing DAO-wide marketing goals. In the future, the guild may also have its own KPIs to work toward
The brand & creative teams continue operating as an internal agency at the DAO
The primary purpose of this new structure is an attempt to better serve business units around the DAO. Whether these individuals live within the MMM or product team budget is up for discussion.