Gitcoin Stewards:
Season 17 Budget reviews are once again underway. If you volunteered to review a budget, you have been tagged in a discord conversation where you were introduced to the workstream leader, seen the roadmap of work to be done, and received the new "how to conduct a budget review" document (thanks @chaselb for the prompt).
Recall that participation in the budget review increases your steward health score found at https://www.daostewards.xyz/ and can be a gateway to greater engagement inclusive of remunerated roles like the Steward Council.
At Gitcoin, we understand that steward engagement helps Gitcoin to progressively decentralize and perform better as a DAO. To drive this, we are posting these details on the forum for greater visibility and to encourage more participation.
Schedule: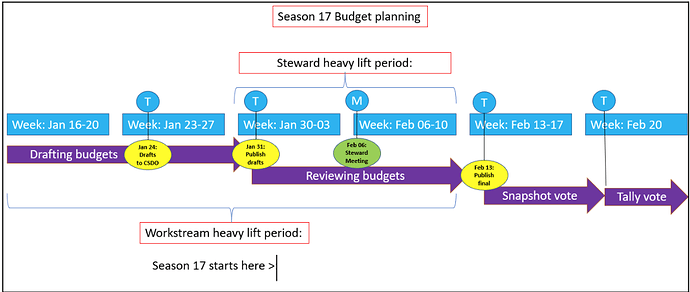 Tools to help you along the way:
Ideas on how to review a Gitcoin Budget (here)
Links to each budget:
Steward Review on Monday Feb 06:
Monday Feb 06 is the monthly call for all Stewards and Steward Council members. The meeting will include a brief summary and followed by a Q&A session for Stewards to ask budget questions to the workstream leaders. By publishing the agenda and review materials early, we are hoping stewards can come to the meeting with questions in hand.
The pre-reading for this meeting will be posted at the link below by Thursday Feb 02 COB.
https://www.notion.so/gitcoin/All-Stewards-Sync-Feb-2023-57bf75716826449ab384be7ac22a7340
FAQ:
Q: I am a Steward and I don't have access to discord / monthly meetings, what do I do?
A: Reach out to shawn16400#5507 on discord - I can get you sorted
Q: Where do I ask questions about the budgets?
A1: Bring your questions to the Monday Feb 06 Steward meeting
A2: Post your questions directly to the forum under the draft.
Q: By when do I need to post my final questions & feedback to the DRAFT?
A: At the latest post by Wednesday Feb 08. This gives the workstreams time to make changes.
Q: What happens after I post my feedback to the draft?
A: The workstreams incorporate the feedback as it comes in and will post the final INTEGRATED budget proposal for vote on Monday Feb 13th
Q: Do I need to post my position on the budget when the final INTEGRATED version is posted?
A: Ideally yes. We encourage those who have spent the most time with the budget and build additional context to share their opinion with their fellow voters.
IF you have any questions or feedback about our process, you can post here - or reach out to shawn16400#5507
Also, we are always seeking to improve. If you have ideas or have seen a really good budget process in other spaces, let us know.