tldr
the gitcoin grants program (or "the program" for short) = the quarterly gitcoin grants rounds (as opposed to the self-service rounds run by other communities)
in this post, i propose that we further modularize gitcoin by building (1) subbrands for each program & (2) creating always-on matching pools for each round/program.
why do this?
to make it clear which parts of the network are credibly neutral vs not.
to allow different programs/subbrands to have different (and sometimes incongruent) messaging
to create more ownership and accountability around each program.
to create more targeted/niche campaigns for different audiences.
post body
the controversies of the last grants rounds (DEI/shell) did a lot of damage to gitcoin's legitimacy in the eyes of ethereum communities.
i would like to propose a solution to this problem that is one part optical and one part foundational.
i think the programs should be treated more modularly, namely that means that:
we should have separate matching pools for each round we run a la climate.gitcoin.eth, eth_infra.gitcoin.eth, eth_oss.gitcoin.eth, eth_community.gitcoin.eth, etc…
we should extend our current house of brands + have seperate brands for each program we run.
each program should have a clear DRI (directly responsible individual) + KPIs measuring their success.
why have separate matching pools for each round?
allow donations to a specific round, instead of pooling donations only to the main pool
start to build aqueducts of long term sustainable funding into specific pools.
start to catch up to other public goods funding projects that have more of a narrow focus with programs that also have their own narrow focus.
why have separate brands for each program?
put the internally bootstrapped programs on similar footing with external programs (like @arbitrumgrants)
modularize ownership over a program's identity/values/comms/execution to the people who run that program.
educate our community on what the different parts of gitcoin are, earning value towards a common understanding outside-in of what gitcoin looks like when it's fully decentralized
build more targeted/niche marketing campaigns for different audiences.
separate out credibly neutral parts of the gitcoin ecosystem (grants stack, allo protocol, passport) from the non credibly neutral parts of the ecosystem (climate program, eth public goods program).
(here is a map of gitcoin's products and their place on the credibly neutral spectrum, thanks @Harryeastham ! )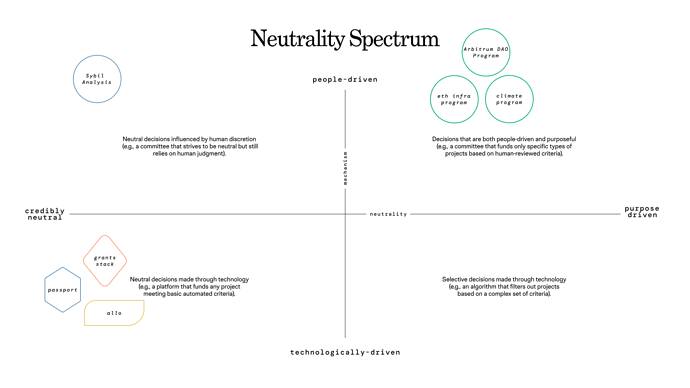 beyond these specific benefits, modularization has broad benefits as an architecture.
by architecting gitcoin around modularity, we follow the ethereum architecture of modularity. i believe that protocols built on top of ethereum should inherit ethereum values.. it's good for comprehension, good for recruitment, and just generally good vibes.
by architecting the topology of gitcoin in the style of the unix philosophy of small groups that do one thing and do them well but can interface with other groups, we create a scalable, repeatable, and accountable structure for longer term success.
these delineated identities/modular sets of accountability's would be a break from the past where there has been these giant workstreams with million $$ budgets and unclear accountabilites. these large monolithic groups have traditionally made it hard for ppl to know whos responsible for what / to be responsible for outcomes.
you can have as many modules as you have true leaders in the organization. give them small contained scoped. - ele from radicle, when i asked him about modular team architectures.
a priori, we know that public goods are relative to the values of the communities they serve. emperically, we know that the internet is super tribal. it follows that there WILL be another shell/DEI style blow up if we don't modularize the protocols now. its not a matter of if, its a matter of when. we have no choice but to untangle the main gitcoin brand from the program, other than risking the main brand unnecessarily. we should do this before GG19.
we have lost out on tens of millions of $$$ in donations in market to projects like other eth public goods projects that have built strong brands around funding of specific causes (like eth protocol devlopment) and a better/simpler mechanism for distributing those funds. don't get me wrong, i'm very happy for the protocol devs that are benefitting from this, but i'm sad gitcoin isn't a player here anymore. in a counterfactual world in which we were investing back in our roots/in oss with basic setup like a separate multisig/brand/fundraising/messaging for the eth infra program, that may not have happened.
gitcoin is investing hundreds of thousands of $$$ into the programs from a staffing perspective, and we've seen millions$$$ of brand damage to the gitcoin brand in the last two seasons due to the missteps on the programs. the overhead of architecting the brands/communications right is not that high relative to the costs of doing it wrong.
i believe that the sooner we begin to build separate brands for the programs the better. it will take 6-9 months to inflate these brands followings to a place where they are substantial, but we can bootstrap them with my twitter account, the main gitcoin twitter account, and the twitter accounts of our partners.
(thanks to @MathildaDV @krrisis @M0nkeyFl0wer @Sov @alexalombardo for feedback on many of these ideas)