Background
---
Over the years, Gitcoin's mission has grown and evolved to showcase the positive role web3 can play in solving the global coordination problems (please read this link in particular) we are all facing. In contrast to the pervasive doomerism that's emerged in light of our declining institutions, we believe that we can still build a solarpunk future where creating positive externalities is not just the exception but the rule. As we continue to build this future, Ethereum can become a schelling point for the hopeful.
Historically, we've been doing this in an inside-out fashion, building the machine that builds the machine of web3 first by helping new intrinsically motivated contributors get paid to build an open web, then by helping maintainers get the funding they direly needed via quadratic funding experiments like Gitcoin Grants. But as the DAO and the ecosystem at large has evolved, the community has begun to think bigger about the role we can play in seeding new experiments; everything we are building involves playing infinite, multiplayer games.
Naturally, this has led many folks to think about how Gitcoin as an Impact DAO can form a true DAO of DAOs consisting of some of the most values-aligned projects in the space.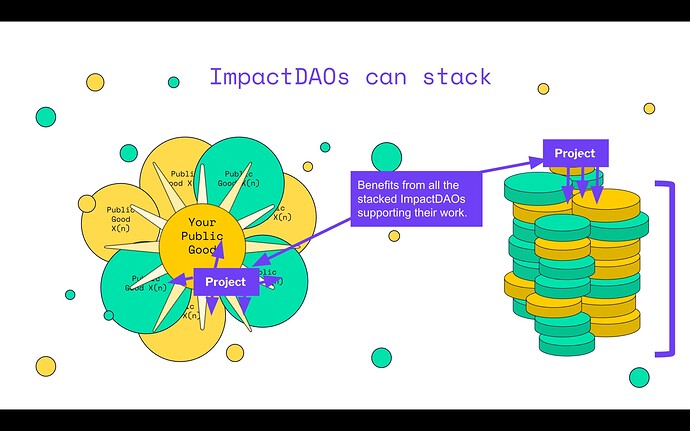 Practically speaking, this overlapping DAO of DAOs is something Gitcoin has previously missed an opportunity to improve its own positioning through as well, by being unable to help grantees like Uniswap level up past smaller grants to larger forms of funding (often dilutive funding via VCs). Had we been able to do mutual grants then, some of these projects may have been able to avoid VC funding and instead form values aligned networks. In turn, we could imagine a more intentional relationship leading to a much larger amount of future public goods funding than what Uniswap currently provides (although we are grateful for what they do already).
The Journey So Far
---
To this end PGF has been pursuing small scale mutual grant agreements as opportunities emerge. Mutual grants as the name suggests are reciprocal grants of tokens for shared governance, with partners that are committed to working with Gitcoin via aqueducts, side rounds, or, more broadly, shared public goods related missions.
While these have largely been successful, there lacks a formal process or committee behind each one. As PGF seeks to scale the size of these agreements, it's become clear that the DAO needs a better framework for evaluating a project's relevance to our mission.
To fulfill this need, a few contributors have been starting first with a framework for how we might prioritize things like side rounds or mutual grants, based in part on a conversation here. In short, currently PGF measures:
1) Ecosystem Impact (e.g. Legitimacy): How much impact is a project likely to have in solving a key coordination problem in web3 and beyond, and will governance in their organization allow us to work to build something greater than the sum of its parts?
2) Strategic Relevance (e.g. GMV): How likely is the project to support the democratic, pluralistic vision we have for public goods funding and thus, as an example, increase GMV of grants 2.0 instances? If a project does not increase these measures directly, are there ways working together could increase them indirectly?
3) Execution Risks (e.g. Size of Deal): How likely is it that we've missed something / that we're wrong about the future ability of a project to deliver? If we are wrong, how much does that impact us in the long run?
Here are some brief high level examples of how these considerations play out:
Example 1: Partnerships with groups like Wonder are likely higher risk than those made with a group like Uniswap who have a longer track record of impact in the ecosystem, and thus as stewards discussed should be for smaller amounts if any. At the same time, these projects are often willing to give more to public goods (as in the case of Wonder's 1% aqueduct commitment).
Example 2: Although partnership with Radicle or Giveth would clearly be values aligned, pushing this forward would require much higher energy in terms of time for meta-governance and in terms of the amount we would have to request as a grant from those groups to properly engage in mutual governance. These are lower risk but also higher cost to execute.
Achieving a Pluralistic Vision at Scale
---
Where do we all go from here?
First, although the framework above is necessary it may not be sufficient, and PGF contributors want to work more closely to outline the "bar" for mutual grants moving forward. The general belief is that this bar has been met, but order of execution has been on a first in first out basis and could likely improve.
Second, prioritization is not a transparent and open process. Although PGF believes this process cannot be fully transparent for reasons noted here, they also believe now is the time for us to put together a committee that can review our prioritized recommendations in advance and have an active discussion with the workstream on a more frequent basis.
With that in mind, members of PGF would like to invite members of the stewards council to join a working group on mutual grants. Joining this group is not necessarily an easy task but it's a necessary one, and would likely take between 5-10 hours a week for at least three stewards if stewards were to agree that it is relevant to Gitcoin's objectives.
Committee membership would involve:
deciding when project alignment is high enough to necessitate a mutual grant (what bar should be set)
helping to prioritize different proposals from external partners (in what order do we conduct grants and how often)
work to suggest strong partners that come up process evaluating these proposals
post-grant, helping to execute on meta-governance between different groups by serving as a member of at least one mutual grant multisig used for inter-DAO voting
Members of this group will be paid a stipend by PGF for their help on top of any amounts from other activities.
If you'd like to get involved, council members will have time to ask questions during the next call, so please reach out to a council member to make sure yours get in. Alternatively, feel free to reach out to one of the PGF workstream leads (@annika @Fishbiscuit @vgk and myself) so that we can discuss in more depth!