Author(s): Robbie (Endaoment), Zakk (Gitcoin)
Summary
This proposal seeks Gitcoin community approval for a grant to fund Endaoment's Universal Impact Pools: a novel mechanism for matching donations to nonprofit organizations and a collaboration between Endaoment.org and Gitcoin's Allo Protocol.
The proposal is requesting $60,000 in Eth from Gitcoin's matching pool to seed the Universal Impact Pool.
Abstract
Endaoment is in the process of building an integration with Gitcoin's Allo Protocol that will allow donations on the existing platform to count as votes in a Quadratic Funding (QF) round. The matching pool for these rounds will be sourced from DAOs, donor-advised funds, and charitable giving organizations. The funds will be distributed to non-profit organizations, further amplifying people's giving on Endaoment.
This new feature, set to be released on June 29, 2023, will be a new way for communities to match funding to nonprofit organizations and bring the power of QF to a new audience. This proposal further strengthens the relationship between Endaoment and Gitcoin and is strategically aligned with Gitcoin's goals for Allo Protocol.
Background
Endaoment and Gitcoin are leading the effort to innovate on new forms of community-powered, onchain impact. While focused on different types of donation-based funding, both have had an enormous impact on the ecosystem. Together, their technologies present a compelling advancement in philanthropic distribution models and an opportunity to significantly reduce governance decision making for DAOs or individuals who wish to contribute to a wide range of impact-focused causes.
Both protocols have demonstrated the capacity to raise money for public goods organizations—over $100m USD combined and growing. However, there is still a lot of friction for protocols, DAO Treasuries, and Institutional funds to participate in community-matched funding. Previously, both Endaoment and Gitcoin have tried to raise funds for causes through individual governance proposals, individual partnership, and matching efforts. Despite the available capital, success has been much greater with individual donors than with treasury distributions.
This collaboration is our joint attempt to resolve that coordination problem by using the collective activity across the Endaoment protocol as the voting strategy for distributions from a matching fund. Through one-time (or perpetual) donations to this fund, donors and DAOs alike can focus on their own missions while distributing their money in an optimized manner to a wide range of non-profits. The ability to make a single decision while maximizing global impact facilitates a much simpler process for DAO impact initiatives.
In order to create this type of fund, the Allo team at Gitcoin reached out to Endaoment ahead of the launch of their flexible on-chain community fund-matching protocol and tooling infrastructure. The combination of the two protocols' main primitives (quadratic funding calculations via the Grants Stack and onchain philanthropic activity from the Endaoment Subgraph) presents an example of how open-source interoperable tooling for DAOs maximizes its efficacy when used in concert.
Motivation
Gitcoin's support for Impact Pools is motivated by several key factors:
1. Strategically aligns with Allo Protocol's launch
Endaoment's integration proves one of the powerful ways in which existing protocols and communities can use Gitcoin's Allo Protocol: wrapped voting. Existing protocols often attempt to incentivize behaviors like minting, staking, providing liquidity, and so on. So far, this has been done through yield or other reward mechanisms. Allo Protocol unlocks the ability for protocols to turn these same behaviors into voting in a QF round (or any other allocation strategy) by wrapping the protocol method (i.e. mint() or stake()) in a voting strategy's vote() method.
2. Creates a plurality of implementations for Quadratic Funding
Endaoment is a strategically aligned partner to Gitcoin and is equally dedicated to creating a positive impact with web3 technologies. By integrating with Gitcoin's Allo Protocol, Endaoment is bringing the power of QF to a new segment of web3. This integration means that internationally known nonprofit organizations such as Doctors Without Borders, the Jane Goodall Foundation, WhyHunger, Rainforest Conservancy, the Nature Conservancy, the Electronic Frontier Foundation, and many more will be exposed to QF.
3. Creates a new impact maximization tool for DAOs (including Grants DAOs)
This combined effort gives DAOs an entirely new tool for their grant-making and giving. Web3 organizations like ArtBlocks, Uniswap Grants, Circle, Coinbase Impact, Nouns, Ukraine DAO, Unicorn DAO, Constitution DAO, and many more already give to nonprofit organizations using Endaoment. Universal Impact Pools will give DAOs a new tool that simplifies their giving while maximizing their impact.
Specification
Endaoment recently kicked off development on an exciting new feature that deeply integrates Quadratic Funding. Impact Pools will be a way to further advance the donations people make on Endaoment by making them part of a QF round. Once launched, Endaoment expects to expand the feature further by running quarterly QF rounds and by eventually launching category-specific matching pools.
"Impact pools are a new kind of matching fund geared towards a new kind of nonprofit fundraising that uses community protocol activity to allocate equitably to causes"
The first version of this integration uses parts of Gitcoin's Grants Stack to calculate the quadratic distribution of the matching pool based on donations in Endaoment's existing protocol. It works in much the same way that Grants Stack does: events emitted by a smart contract in Endaoment's protocol are indexed offchain; at the end of the round, Endaoment will calculate the distribution of the matching pool based on these events. The distribution will then be shared to the nonprofit organizations on Endaoment. All of this functionality is based off of and meant to closely model how Gitcoin currently runs grant rounds on the Grants Stack.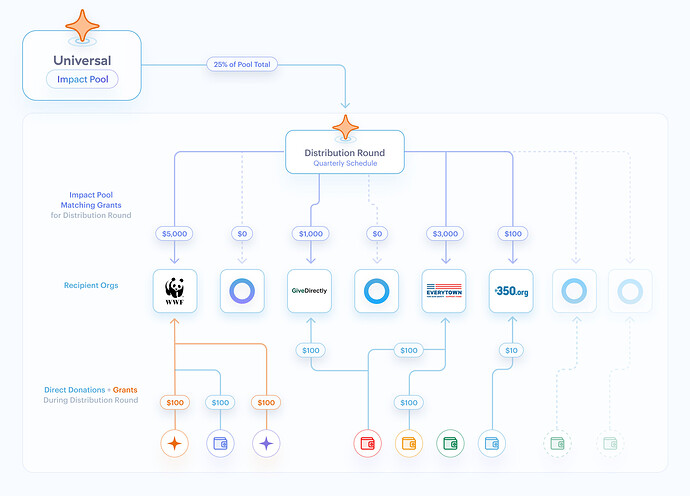 We will integrate more deeply with Allo Protocol as we grow adoption for this feature on Endaoment and the Allo team finalizes version 2 of the protocol. At that time, we will write custom voting and payout strategies that bring as much of the calculation and allocation onchain as possible. This will automate QF rounds, which we expect to expand to each category in Endaoment.
At a high-level, this means we will write a custom voting strategy that can be used with Allo Protocol and wrap the existing donation method in Endaoment's smart contracts. Behind the user interface, when someone donates to a nonprofit on Endaoment, they'll be interacting with this voting strategy, which in turn interacts with Endaoment's smart contracts to complete the donation.
Milestones & Timeline:
05/22 - Development kicks off
06/23 - QA begins for Q2 Distribution Round
06/29 - Public launch
07/01 - Q2 Distribution Round ends using votes from 04/01/23 - 06/30/23
07/01 - Start Q3 Distribution Round
07/06 - Keynote presentation about Impact Pools at EthBarcelona
07/08 - Payout deadline for Q2 Distribution Round
Budget
$60,000 in Eth of matching pool funds for the first year of grantmaking from the Endaoment Universal Impact Pool
100% of these funds will go to seeding the matching pool on Endaoment. All development and operational costs are to be burdened by Endaoment. Endaoment and MMM will co-market the launch as a successful integration with Allo Protocol (already budgeted). Allo's Developer Relations team will continue to provide technical support for the integration (already budgeted).
Benefits
The benefits of this Community Proposal are:
Endaoment has partnered with Allo Protocol to build out the first example of an important use case of the protocol: wrapped voting. This will be an open source example for how other protocols can do the same.
Plurality of QF venues: this brings QF to a new audience and community in an organization that is strategically aligned with Gitcoin.
Drawbacks
The largest potential drawback for this proposal is that it could set the precedent that matching pool funds will be available for those who integrate with Allo Protocol. While we believe this is a strong, strategically aligned proposal, we recognize that matching pool funds should not always be available for everyone who integrates with Allo Protocol.
Vote
Yes: Vote yes to grant $60,000 in Eth to seed the Impact Pool matching pool for QF rounds run on Allo Protocol through Endaoment
No: Do not fund this grand and do not move forward
Abstain: I am missing context or this proposal needs more refinement.