Digest #46: Gitcoin x Unicef Alpha Round has surpassed $25k in donations, with one week to go!
---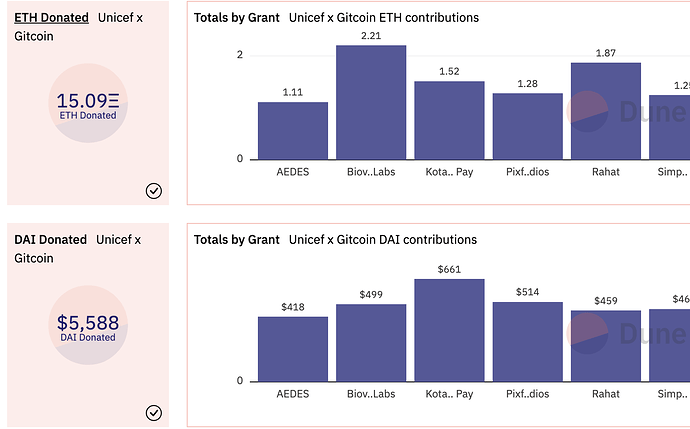 Unicef Alpha Round–Results to Date
Our alpha grants round with Unicef is in full swing! As of 12/14, we have over 1000 unique donators. The round has also surpassed $25k USD in donations, from combined donations in both ETH and DAI.
You can follow the progress of the round via this Dune dashboard, created by Gitcoin Steward, Carl Cervone, to track donations and other relevant statistics. Thank you Carl!
Some additional Unicef updates:
There's still one week to go. Donate today and your donation will be quadratically-matched from the 50 ETH matching pool.
If you need help making your pledge, check out our walkthrough here, or message our support team in Discord.
In This Issue of the Digest
DAO News
Content Roundup
Top Posts from the Gov. Forum
Upcoming Events
Opportunities for Builders
---
DAO News
Vote on Fantom grantees and donate! The voting period for the Fantom Incentive Program began last Tuesday, (12/12), and runs until Jan. 2nd. Donate to your favorite Fantom projects and help them get a share of matched funds. You can donate here.

Buidl In Public #4 happened last Friday. MMM's Gary Sheng hosted Orrin from QSTN. The QSTN team is building a blockchain enabled market research portal where users earn digital rewards for completing surveys, questionnaires and short answers. Read the recap thread here.

Last week's community call: "Evolving the Gitcoin Brand". Last week's community call was lead by Alexa and LH. During the call, Alexa gave a report on where the Gitcoin brand is, and where it's headed. They also sourced community feedback on the topic of the Gitcoin brand. You can watch the recording of the call here, and learn more via this forum post.
Top Posts From the Gov. Forum
These are the top posts from this week in the Gitcoin Governance forum. See the latest here.
Gitcoin updates summarized by Kyle Weiss

In this post, Kyle gives a short "state of the DAO" post. Updates include: recently electing a new Steward council, Gitcoin recently closed its treasury diversification efforts, our Grants Protocols is live(!) and we're running two Alpha Rounds on it currently. Also, Gitcoin Passport continues to grow–we recently announced a partnership with Snapshot, and Passport has recently passed over 100k passports created.

This post gives a high-level outline of the way FDD is thinking about composable anti-Sybil legos, as Gitcoin moves to the protocol-based grants system. Essentially, Gitcoin depends on Gitcoin Grants, and Gitcoin Grants depends on effective sybil defense. Right now, there are human-powered elements to sybil defense, such as human reviews and using data science tools. In the future, FDD aims to create modular "anti-sybil legos", that "can also be forked and recombined in creative ways in other projects, making them useful across the whole of Web3, not just within Gitcoin".

November CSDO Digest by Kyle Jensen

Cross-Stream DAO Operations (CSDO) is a group of workstream and initiative leads that come together to ensure alignment, transparency, and integrity across the DAO. In this post, Kyle introduces the monthly CSDO Digest, and breaks down all the most important CSDO outcomes from every month, starting with September.
Read more about the work CSDO is doing with pods, auditing workstream budgets, and the initiative to create a DAO operating system.
---
This Week's Content
This week, two new posts on the Gitcoin blog, and three new Green Pill episodes from Owocki!
---
Upcoming Community Events
If you have an event you'd like us to include in the Digest, reach out to @alexdw5 on Twitter or Discord.
Monday (12/19):
2-3p ET – Unicef Grantee Kick-Off, Part Two. Ben and Azeem interview five grantees from the Unicef alpha round.
Next Wednesday (12/21):
12p ET – Gitcoin Community Call. Join us in the #dao-citizens channel for our weekly Gitcoin DAO-wide community call.
For up-to-the-minute updates on Gitcoin events, check out our Events Calendar!
---
Opportunities for Builders
---
---
Sign up here to get the Gitcoin Digest in your inbox.
Tell us how we can improve the Digest here!

---
—-