Many of you may know about our Cross-Stream DAO Operations, or CSDO, powerhouse team. If you don't, CSDO is a group of workstream & initiative leads that come together to ensure alignment, transparency, and integrity across the DAO. These troopers do everything from starting important conversations to ratifying organization-changing proposals, each one aligned with our essential intents & purpose and aiming to make Gitcoin a better place to work.
With all the world-regenerating we're doing - from questioning the foundations of our knowledge to building scalable infrastructures for public good - it's easy for things to get lost. That's why we're introducing this monthly CSDO Digest! We'll be breaking down all the most important CSDO outcomes from every month, starting with September!
DAO-Wide Updates
The Merge: Gitcoin Product Collective <> Moonshot Collective
Kicking things off with a big update is the merging of two workstreams, Gitcoin Product Collective (GPC) and Moonshot Collective (MC) on October 20th, 2022. Composed of engineers, MC was the workstream focusing on experimentation and innovation in the context of GTC Utility, governance, identity and our grants protocol. The Moonshot Collective workstream was absorbed into GPC, and GPC will manage & oversee all products and product development for the DAO.
Gitcoin August 2022 Financial Report
Interested in learning more about the financial state of the DAO (as of August 2022)? You can head on over to the Gitcoin Forum to get more information on our financial health, but I'll break it down here:
Total $ value of contributor rewards is down 19% MoM, which is a direct result of timing differences in payment made to contributors from differing workstreams, coupled with a depreciation of GTC token price at month end. We anticipate a slight increase in contributor spend with the inclusion of the new workstream: Gitcoin Product Collective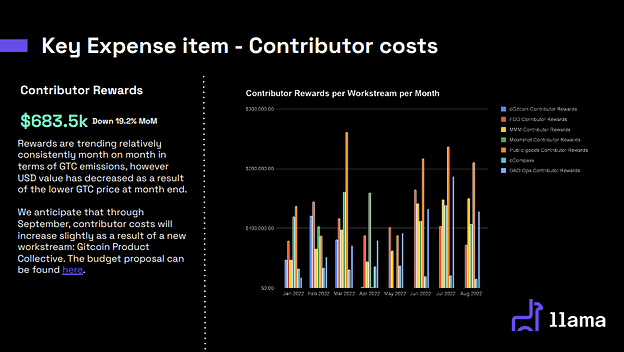 Total Gitcoin treasury balance has decreased from July, as a result of GTC token price depreciation. However the stablecoin treasury holding has increased as a result of diversification efforts.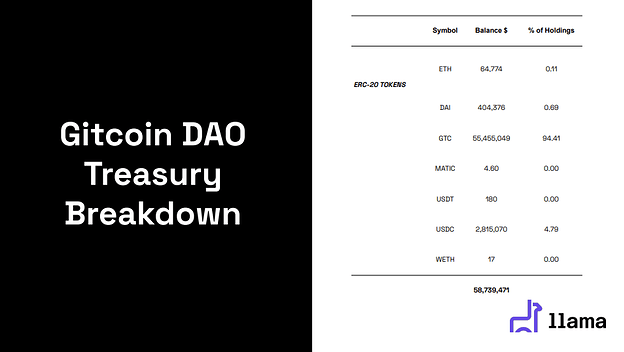 The consolidated income statement shows total contributor rewards YTD of $5.4m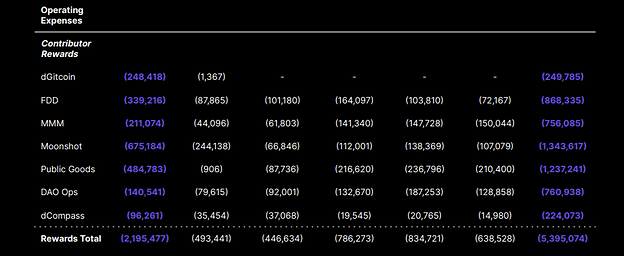 Proposals
Emails For Trusted Contributors
MMM's Laura Banks proposed clearer guidelines surrounding the qualifications for trusted contributors wishing to obtain their own gitcoin email account. Trusted Contributors (in addition to Core/FT contributors) should receive emails if they align with one or more of the following:
The contributor is new but has a clearly-written time-staked agreement with their workstream (e.g., someone working in a function who is working on a clearly-outlined, high-context, cross-stream project - example: community engagement strategy). Upon offboarding, that contributor's email will be sunsetted and no-longer functional
OR
The contributor has shown commitment to the DAO, has been an active and integral part of the workstream for at least one season and has clearly-identified roles and responsibilities within the workstream. In a traditional working environment, this person might be considered a "part-time" employee (see MMM's Understanding Contributor Tiers)
You can read the full passed proposal here.
Governor Contract Upgrade
Former MC/current GPC contributor Chase Dragan proposed the key details around the current governor contract related to our governance process summarized in the v3 Governance Post.
You can read the full passed proposal here.
Peer Reviews
DAO Ops' Jodi proposed amending the peer review process to include:
The ability for trusted contributors to opt in
More objective metrics to evaluate contributor performance.
A notice to workstream leads and/or talent coordinators for each contributor in the workstream participating in the process.
Clear guidance to contributors about selecting peer reviewers and providing constructive feedback
Time for 1:1 meetings between the workstream lead(s) (or delegate) and the reviewee.
You can read the full passed proposal here.
Planning Cadence for Gitcoin Seasons
DAO Ops' Kris proposed an alternative budgeting process involving 6-month 'strategic' or 'visionary' cycles that allow each workstream (WS) to set their 'always on goals' and long-term strategic plans for the following 6-months. In the middle of each 6-month period there will be a 3-month check-in. At this point WS's have the opportunity to reflect and share their progress to date. At this point the second half of the initial six month budget is "released" to the WS.
You can read the full proposal here.This proposal did not pass, but led to a proposal by Scott, which was based on this, in October that did pass. More on this in our next update.
Key Discussions & Thoughts
One of the things CSDO does best is create conversations surrounding important issues affecting the DAO and its contributors. Here are some of the key discussions that went down over the month:
MMM kicked off their positioning and branding initiative, with GPC contributing to the product side
S16 dates were announced, starting with a retro on 10/01 and budgets landing in the multisigs on 12/01:
MMM outlined the suggested priority stakeholders as they relate to community engagement initiatives
Improving organizational culture, specifically as it pertains to creating a culture of coaching and mentorship
Gitcoin Operating System Alignment
Sustainability of quarterly grants rounds
Offboarding process
Community Engagement
Paying contributors in stables
Grant based sanctions for contributor fraud
For more information on how these discussions went, you can check out all of the CSDO Meeting Notes to read more, or the Gitcoin Transparency YouTube Channel to watch recordings of CSDO calls!
And that's it for this month! Keep checking back monthly for future editions of the CSDO Digest!