MMM Workstream

Season 14 Budget Proposal, Revised as of 5 May 2022

This is a renewal proposal for the MMM workstream requesting budgetary funds for Season 14 (1 May 2022 through 31 July 2022).
tl;dr
The efforts of the Memes, Merch, & Marketing workstream continue! For the first season, all Gitcoin marketing contributors & efforts will be unified under this DAO workstream. Our highest priority of Season 14 will be to maximize the impact of Grants 2.0 and marketing GR14.
The MMM workstream is requesting a total of 152,912 GTC for Season 14.
( Update: This is a decrease of 9% from the original S14 proposal. See detailed request and changes below.)
Our focus this season is on the following four objectives:
Lay the foundation to reposition Gitcoin as the premier ecosystem building & funding protocol
Increase awareness & affinity for public goods funding & Gitcoin's role in it
Elevate the Gitcoin brand experience
Establish systems, processes and practices to shape a thriving MMM and GitcoinDAO community
Season 13 Recap
The MMM workstream made extensive progress in Season 13 in our effort to establish Gitcoin as the world's preeminent community of web3 builders, building for the public good. We outlined this progress initially in the April workstream accountability report. Here is the full list of key highlights & learnings from Season 13.
Objective 1: Build Gitcoin's lean, mean web3 marketing machine
Led awareness & marketing efforts for Grants Round 13, our second biggest round yet with over $1.4M raised from 16k contributors with 300k contributions by the community
Planned, designed, and executed email marketing plan during GR13 and across the rest of S13, achieving a record-breaking 9 email campaigns, 6500 clicks to grants and over 9000 grants added to carts
Drove over 3M impressions, 1.3M profile visits, and added 10k new followers on main Twitter handle
Created web analytics tracking for GR13 to track conversions and track our impact
Objective 2: Shape and grow a leading web3 brand
Planned and executed a sold-out Schelling Point public goods conference at DevConnect Amsterdam
Selected and onboarded a PR partner to shape Gitcoin's external perception & grow global media presence
Established cross-DAO partnerships and ran two successful community events (Memepalooza); the most recent one had 200 attendees in partnership with 1Hive & KlimaDAO
Major improvements to content archiving tool, memes.party, over 700 memes uploaded
Launched the first version of Regen vs Degen card game during Schelling Point Denver
Ongoing delivery of great regen vibes through GitcoinDAO Twitter
Objective 3: Support GitcoinDAO & workstream initiatives
Launched steward Health Cards 2.0 with new features and a complete revamp of the backend
Launched the Gitcoin Primer to assist with onboarding of new contributors to the DAO
Published two Dune Dashboards (Governance & Financials, Governor Alpha & Timelock) to increase transparency and accountability of our community of stewards and workstreams
Posted weekly GitcoinDAO Digest-newsletter on the forum & email with over 400 weekly readers
Supported DAO workstream & group events with marketing and designs
Launched and hosted 3 unique 'Can Devs Do Something?!' developer meet-ups (Lisbon, Denver & Amsterdam)
Created a dozen header images for Notion and Discord, minted POAPs for events and created visuals for onboarding and navigation. Created new logos and branding for Builderband and FDD.
Supported Moonshot Collective comms via a partnership-raid
Objective 4: Grow & support team health and accountability
Empowered workstream contributors by soliciting and integrating feedback on WS structure (received from our RadicalxChange Voice event)
Developed and shared updated workstream OS including contributor levels, substreams, project processes need to be evolved and documented in the upcoming season
Began exploring Dework as an onboarding tool for contributors curious about MMM and Gitcoin
Collaboration with DAO Ops to improve and streamline our contributor compensation
Continuing Activities and Proposed Budget
This Season, we are continuing to use OKRs for workstream priority setting and planning, with 4 key objectives laid out below:
1. Lay the foundation to reposition Gitcoin as the premier ecosystem building & funding protocol
Key results:
Drive customer & audience research on identity, sybil protection & broader ecosystem funding solutions
Create product positioning, packaging, and promotional marketing materials to support protocol vision
Steer Gitcoin toward a protocol future through effective and timely launch of identity module
Prepare comprehensive SEO audit of all website assets & recommend actions to drive growth for Grants 2.0 vision
2. Increase awareness & affinity for public goods funding & Gitcoin's role in it
Key results:
Grow awareness and comprehension of grants and public goods among funders & grantees in Grants Round 14
Increase diversity and frequency of Gitcoin representatives at industry events
Elevate Gitcoin's profile within the global media narrative through proactive media outreach & reactive media opportunities from PR/Comms initiative
Build the profiles of Gitcoin leadership, positioning us as key commentators and reliable and trustworthy thought-leaders in crypto, DAO, open source & fundraising ecosystems
Reinforce Gitcoin as a leader in the Web3 ecosystem, and help Gitcoin transition from an Ethereum funding solution to an internet-native protocol for building & funding ecosystems via a comprehensive content strategy
Support Holdings team in marketing virtual events business
Upgrade and democratize our email marketing platform & migrate to a comprehensive marketing automation suite
3. Elevate the Gitcoin brand experience
Key results:
Support all marketing campaigns, including GR14, with top-notch marketing assets, creative and copywriting
Complete analysis and scoping of visual identity refresh
Full audit & clean up for gitcoin.co website & other marketing assets
Update existing schwag store & innovate using token-gating plug-ins
Drive alignment on overall IRL event strategy & begin planning for S15 IRL events
Develop visuals for workstream to help onboarding, navigation and proposals
4. Establish systems, processes and practices to shape a thriving MMM and GitcoinDAO community
Key results:
Build OS framework to revamp a minimum of 3 quadrants (Workflow, Information, Authority, Measurement)
Define and communicate a clear onboarding process for new contributors & implement contributor health measurements
Define and implement bottoms-up OKR processes with the MMM contributors by July 10th
Expand connections and collaborations with workstreams; designate an MMM point of contact for each workstream
Build Gitcoin community & shape community-first vibes via hosting and promoting virtual events such as Weekly Syncs, Memepalooza, and other events
Increase transparency & awareness of key DAO activities via the GitcoinDAO Digest
Season 14 Budget Requirements
| Budget Category | Description & Assumptions | Amt USD | Amt GTC | Decrease Amt USD |
| --- | --- | --- | --- | --- |
| Content | Social media, blog, newsletters, copywriting | $72,400 | 13,125 | $16,740 |
| Brand & creative | Production & brand design, IRL event marketing, web development, brand strategy | $131,050 | 23,825 | $6,500 |
| Community experience | Gitcoin community events, artist relations, DAO transparency | $86,100 | 14,900 | $4,100 |
| Growth | Email, SEO, marketing campaign management, website migration, analytics and reporting | $46,725 | 8,500 | |
| Product marketing | Market research, product positioning, packaging, launch support for grants protocol | $30,000 | 5,500 | |
| PR/Comms | In partnership with YAP Global: comms strategy, DAO reputation management, leadership reputation building | $30,000 | 5,500 | |
| Ops, Strategy & Governance | OS facilitation & design, stream goals & strategy, recruitment & onboarding, workstream project management, cross-stream relations | $108,360 | 19,700 | $22,218 |
| Holdings & virtual events | Marketing support for virtual events business including content strategy, email marketing, social media support | $0 | 0 | $30,000 |
| Totals | | $504,635 | 91,751 | $79,558 |
Budget Ask
| | | USD | GTC |
| --- | --- | --- | --- |
| Season 14 original ask | | $584,193 | 106,216 |
| Reduction | | $79,558 | 14,465 |
| Season 14 updated ask | | $504,635 | 91,751 |
| 60 day reserves (=⅔ of the S14 need) | | $336,389 | 61,161 |
| Current treasury balance | | $12,000 | 2180 |
| Amount Requested from Treasury | | $841,024 | 152,912 |
Note: A denomination in dollar amount will be prioritized in budget proposals over GTC - if the spot price assumed at the time of posting ($5.50) this document on the forum changes between then and when the budget gets proposed on-chain, the GTC amount will be readjusted to reflect the dollar amount above. GTC are rounded values.
Current signers of the MMMultisig are: Brittney, Fred, Sean, Jonas, Ceres, ChrisDean & Simona.
( Update: ChrisDean and Simona were added to the MMM multisig after the original S14 proposal. )
Amendments from original S14 proposal
Lowered budget by approximately 3% (by eliminating a 5% buffer applied to most substream detailed budgets). We will use workstream reserves to account for any unexpected budget overages.
Decreased budget in Content by 23% to account for time-to-hire and a slightly slower team ramp-up given MMM-steward responsibilities
Decreased budget in Ops, Strategy & Governance by xxx to to account for more realistic time-to-hire and a slightly slower team ramp-up given current MMM-steward responsibilities
Removed virtual events marketing support budget (negotiating for Holdings to cover this expense as part of asset transfer).
Clarifications based on Steward feedback
In response to feedback from @kyle re: "Community Experience doesn't feel like a fit when DAO Ops currently claims to support community experience", we'd like to clarify that the work MMM sets out to do differs from the work DAOOps is working on. Our focus is on building a stronger and more engaged community through events, bounties, visuals, explainers and videos. We are also actively working on creating spaces for cross-DAO activities to take place in an effort to unite communities surrounding GitcoinDAO. We are in active communication with @krrisis regarding intersections between our efforts and will work to keep efforts properly aligned in this and future seasons.
In response to feedback from @kyle re: "Brand & Creative feels large for a single season ($137k), but there are few details shared on how this number was amassed", we'd like to clarify that the proposed brand budget includes the following components: absorbing the F/T salary of bringing over Holdings' marketing designer, covering additional F/T and project-based designers, salary for substream lead, outside design studio to assist with brand analysis and scope to inform website refresh, and a supply for bounties and project requests from other workstreams. As outlined in Amendment

#1

above, we have reduced budget for this substream by removing the 5% buffer.
In response to feedback from @DisruptionJoe re: "the lack of clear metrics", we'd like to clarify that a primary objective for our Growth substream is to improve data visibility, tracking & analytics for campaigns & projects within the MMM workstream. For Season 14, we're unfortunately not able to make our goals as quantitative as we'd like, but we believe this will continue to improve meaningfully with each season. We hope that progress will be accelerated by moving to a comprehensive, unified marketing automation suite in S14.
Team
The MMM workstream will consist of MMM Stewards, Seeders and Peers. Our ambition is to create a welcoming environment into MMM with mobility for talented contributors that want to be more involved.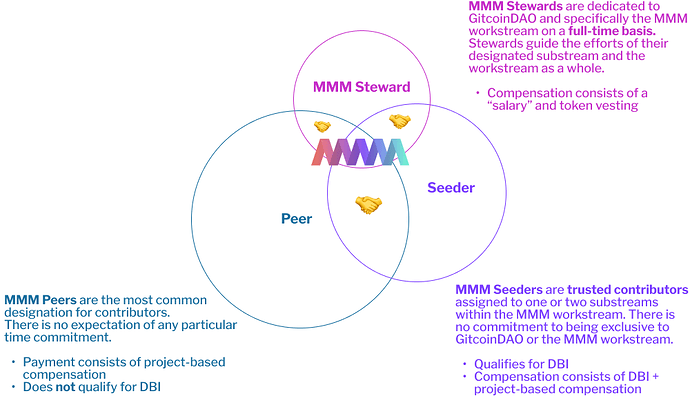 You can read more about our initial thoughts on DBI and contributor tiers in this governance post.

Conclusion
We've come a long way since MMM was first initiated in GR10. Season 14 will be our most ambitious season yet and we've worked hard on getting the structures and processes in place to accommodate our larger mandate.
We are incredibly excited and humbled by the continued support and look forward to scaling up dramatically to fulfill the tasks we set out to do in this budget over the coming 3 months. We've got the momentum going and are ~coordinating~ with our amazing contributors and other workstreams to further Gitcoin's mission of funding Public Goods!
Signed,


Your MMM Stewards