tl;dr
As a long-time supporter of the Gitcoin climate grant round, Momus.eth has made it a mission to support the emerging regenerative finance movement. They have contributed generously to the Climate grant round matching fund and individual grantees. After making significant contributions, the question is whether these grantees have made an impact with the funding received. Out of this need, Momus built a new tool called DeReSy (DEcentralized REview SYstem), with the first use case being reviewing climate round grantees' impact and use of funds. The first set of reviews was conducted and found that seven out of the top ten most funded climate projects in GR14 had made a positive impact with their work and should receive additional funding (reviews can be found here:
gitcoinreviews.co
).
Who is Momus
momus.eth, aka the Momus Collective, is an anonymous group that we do not know much about. They did well in the early days of crypto and curated a fantastic collection of early NFTs from 2018-2020. They were betting on artists in a bear market at a time when most people didn't understand or see the value of NFTs. They saw the possibilities at the intersection of the physical and digital world and used their precious ETH to encourage artists to push the space forward. They own many early and historically significant CryptoArt pieces.
In the same spirit of funding and supporting the next generation of innovation on the blockchain, they began funding regens and climate-focused projects. In their words, "This regenerative movement is especially critical now, at a point in history when we need to be re-aligning human incentives to enable a sustainable way of life for the planet and future generations." They have begun selling some of their NFT art collection to fund this critical work and, in their words, "to signal that your (climate/ReFi projects) contribution to the space is valuable and that you can persevere through the doubts of the bear…Regens Unite!" In late 2021, the Momus Collective began funding projects via Gitcoin and has contributed 1.5 Million DAI to the Gitcoin grant climate round matching fund and over 444k DAI in direct donations to grants.
You can read their most recent public statement here:
https://ipfs.io/ipfs/bafybeibgmniyijilqtuvf6yeqxah4jb4fivhrng4wmhwedlp3i4aabpgga/
What is DeReSy?
Momus built a contract-based review system deployed on Arbitrum: DeReSy (DEcentralized REview SYstem). This review system was initially designed to enable the evaluation of Gitcoin funding in a transparent, scalable, self-service, credibly neutral way. However, DeReSy is application-agnostic: it could review a list of movies, products, protocols, or VC funds. The hope is that others use DeReSy to increase the efficiency of their work through contracted reviews.
The general idea is that a sponsor writes a ReviewForm to evaluate a set of Targets. The sponsor then selects a group of Reviewers who will be compensated - in ETH - to fill in the ReviewForm for each Target. This is done by creating a ReviewRequest and depositing enough ETH to guarantee reviewers will be paid for their work. DeReSy is built on Arbitrum and can be forked by anyone to begin using it. Arbitrum is used to automate the execution of the payment logic, and IPFS is used to store data. DeReSy does not rely on any centralized component and is unstoppable as long as Arbitrum and IPFS exist. Momus is excited to see how others use this tool.
Fully-Decentralized DeReSy application, on arbitrum and ipfs:
https://deresy.eth.limo/
DeReSy smart contract code and IPFS Single Page Application:
DeReSy V1 deployment: DeresyRequests | Address 0x50e9a780bde93ccfa592ce9e981d5dbaf9cfc107 | Arbiscan
One of the challenges the Momus Collective has faced is determining what Gitcoin grants to fund and, perhaps more importantly, whether these projects are making an impact with the funding. There was a need for a tool to review grants, so Momus funded building one.
Gitcoinreviews.co
is the first use case for DeReSy.
As an initial test of gitcoinreview.co and the underlying DeReSy protocol, Momus used the site to review the top 10 most funded projects from the GR14 climate round. They worked with two reviewers (as seen on-chain, I was one of the reviewers) to independently review these grants/projects. All reviews are on-chain, and as previously noted, Arbitrum was used for the execution and payments, and IPFS stores all the data. A third party, like Momus, can fund these reviews by issuing bounties for reviewers to perform due diligence on projects.
During the test run, the two reviewers sometimes disagreed with each other. Still, there are clear trends on the positive impact projects generated and how much they would benefit from additional funding. The compiled review data is below.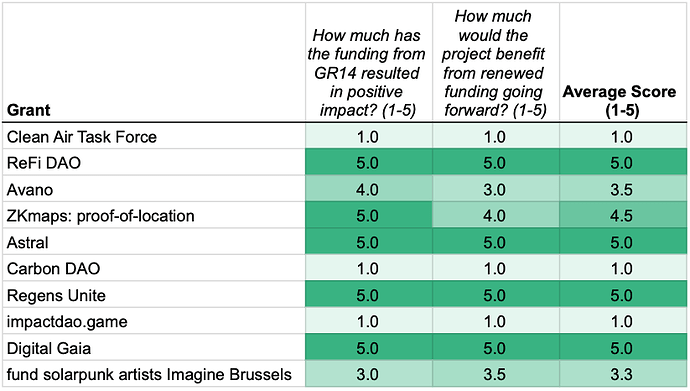 While DeReSy has the advantage of being an unstoppable, immutable, self-service protocol, the user experience from serving content from IPFS and looking up key review data from Arbitrum is slow and not ideal for end users. For this reason, gitcoinreviews.co serves as a fast-cache to both IPFS and Arbitrum, and interacts with the underlying DeReSy platform to serve content and provide a UI for the reviewers to complete their reviews efficiently.
GitcoinReviews.co UI code: https://github.com/chimi-co/deresy-centralized-ui
GitcoinReviews.co API code: https://github.com/chimi-co/deresy-centralized-api
Why?
The use of funds and progress projects are making is important to funders. Contributors will contribute more if they can assess the project's progress and see the impact they are funding. There is no easy way for matching fund contributors and individual contributors to evaluate a project's impact and progress.
Gitcoinreviews.co
provides a way to assess project progress and impact.
To conduct due diligence, you can review a project's Twitter, webpage, Discord, and other online presence to assess what they are working on and shipping. You can investigate on-chain activity to see where funds have gone and what % have been off-ramped to FIAT. The problem is with hundreds of projects in grant rounds; this is time-consuming and inefficient.
Momus built Gitcoinreviews.co to outsource this due diligence work. The tool provides a 3rd party audit of the project that should present a non-biased view of the project. Momus funded the initial alpha test reviews and plans to fund further reviews of the climate grant round. We hope to see other matching pool contributors do this for additional grant rounds.
The Future
Gitcoinreviews.co
pulled in data from the old c-Grants platform. We are beginning work on v2 of the site, including integration with the Allo Protocol and the Grants Stack. Some feature improvements include editing and updating reviews and tracking version history all on-chain. There will be improvements to the UI/UX for both reviewers and the public view of the site. For the projects being reviewed, we also want to incorporate an on-chain feedback form for self-reporting work accomplished and project impacts.
We are also working with other projects, including Hypercerts, to explore using these reviews as on-chain attestations of verified impact. We may explore integrating the project's Hypercerts into the project reviews. Another possibility is for the site to connect to various api's to pull more data and metrics about the projects into the review site.
If you are interested in working with us or spinning up another use case for DeReSy please contact us at momus.eth@proton.me.