The DAO has been continuing to work on increasing transparency and context-sharing with our Stewards and wider audience, and it's been encouraging to see some of the recent high-quality engagement this has been driving! Below is a proposal for a redesign of one of our most important/impactful operation procedures - our budgeting process. This proposal has been discussed extensively internally as well as with some of our most engaged Stewards, but is still very much a work in progress and additional feedback is greatly appreciated.
Currently, the DAO uses a quarterly budgeting process as the main way to report to and engage Stewards, plan work for the upcoming Season, and allocate resources for completing this work. Although the existing process has served its function of ensuring workstreams have the resources they need to do their work, it hasn't been the most effective or transparent way to maximize our accountability to Stewards and ultimately our larger community.
In addition to being time-consuming and emotionally-taxing for workstreams, the traditional budgeting process that Gitcoin has been using can have several other pitfalls that lead to deeper, systemic issues:
Inflexibility + short-term thinking: the process encourages workstreams to fixate on delivering on rigid OKRs for the season in order to prove their value during the next budgeting cycle, reducing our ability to sense and respond to changes and opportunities in our environment, or think more long-term/take in the bigger picture.
Weak links to strategy: as each workstream is looking out primarily for their own interests, OKRs consist of targets centered around the functions that this workstream has resources to deliver in the next three months - even if these targets aren't necessarily the ones most aligned with long-term strategy.
Gaming behaviour: lowballing and sandbagging due to OKR-setting being tied to workstream performance evaluation
Performance-related issues: workstream and contributor performance is tied to suboptimal metrics - the same metrics that are rigid/not tied to strategy/can be gamed etc.
Opaqueness to Stewards outside the organization: With very little context on workstream projects (and little incentive for workstreams to increase context-sharing), Stewards are often left in the dark on the how/why of work completed at the DAO - leaving them to make resource allocation decisions without a complete picture.
Proposal
Modularize the budgeting process and make it more effective by separating resource allocation from forecasting, objective setting, and performance evaluation.
Details
In our current budgeting model, the three processes of resource allocation, strategy and objective setting, and performance evaluation are inextricably intertwined. This makes it very difficult or impossible to optimize for each, due to conflicting goals for these components. By modularizing the budgeting process, we make it much easier to work with and refine each piece. This proposal includes all three components.
Forecasting + Objective Setting
Currently, the DAO doesn't do any meaningful forecasting - there is often no clear "why" for objectives being set. Well-thought-out objectives should be aligned with a unified strategy and have a strong "why" that is easy to understand, and in response to market signals.
In this redesigned process, we propose (strategic) forecasting and (tactical) objective-setting to be the first part of a three-part process.
The process:
Every 3 months, the DAO presents a rolling forecast of the next two seasons (the upcoming season + one more following). This should include forecasted milestones, threats/challenges, changes in market and/or "competitors", and any other major considerations for each of our four essential intents. Note that this is not just an internal roadmap, but also looks outward to define the "why" behind the work we're taking on.

PGF (being the home of our flagship Grants Program) and GPC (being the builders of our Protocols) would be the first to share their forecasts internally, followed by other workstreams, informed by PGF and GPC's forecasts.
These forecasts are then merged into a single forum post (not every workstream) to be made on the governance forum - inviting the community and stewards to provide input on any blind spots or perspectives we may have missed. The purpose of this is to serve as the "why" for the work that workstreams will propose in the next step of the process.

Once this post has been on the forum for a minimum of 5 days, after another 5-day working period, workstreams present how they will sense and respond to the presented forecast (with integrations from any steward feedback) + how they sensed and responded to the previous season's signals ****(a short summary of work that was completed in the past season, with no judgment attached).

The format of the sense and respond proposals is up to the workstreams - workstreams can continue to use OKRs if they prefer (keeping in mind they will not be evaluated on how close to 100% they get to achieving these OKRs), or just a list of objectives/projects based on the forecast + how the workstreams plans to assign resources (contributors) for accomplishing them.
Once proposals have been on Discourse for a minimum of five days (and any changes have been integrated + other requirements for proposals such as minimum Steward input are met), these can go to a Snapshot vote for a "vote of confidence" on the workstream's direction/planning for the season.
Additional discussion may continue to happen as the Snapshot proposals are live, however a "no" vote at this stage signals that Stewards disagree with how the workstream has chosen to respond to the forecast and/or how it is assigning resources.
Only after the above activities are completed + discussed with Stewards do we move on to the next step in the process, resource allocation. This ensures that Stewards understand and are aligned on general direction first, before providing additional input on resource allocation.
Resource Allocation
This process is only done every other season (6 months) - the idea is to approve forecasted expenses (mainly contributor compensation) for 6 months at a time rather than every season.
In a Resource Allocation season, once the proposals from the Forecasting + Objective Setting step are passed, the DAO presents a single proposal that lists total compensation costs (this is ~ 90% of expenses) + any other forecasted costs such as benefits, tooling and a reserve for GTC price fluctuations for the next six months. In total, this should cover at least 95% of the DAO's projected costs over the next six months.
Workstreams will have discussed how these resources are assigned in the previous step (direction-setting that Stewards will have agreed on), so there should be minimal debate at this step.
We propose sending all of this six months' funding to the CSDO Multisig and having a simplified payment system through Utopia Labs for the entire DAO (most core contributors are already being paid this way). This could help us be more cost-conscious, as well as simplify treasury management practices.
Note: For a simplified, shared compensation proposal to make sense, the DAO would need to demonstrate to Stewards that our contributors are being compensated fairly and consistently across all workstreams. The comp-auditing/reporting work that is underway will allow us to back our claims on compensation with market data.
For the remaining 5% of costs, such as new hires in the middle of the season (that weren't forecasted), unexpected infrastructure costs, retreats, etc, we would follow the advice process first internally (at the CSDO and Steward-Council level at a minimum, preferably engaging the wider DAO), and then at the governance forum before requesting a funds proposal on Snapshot.
Tying spending to GTC price:
As one step in tying our spending to GTC price and protecting our treasury, I propose the 6-month resource allocation to be denominated in GTC, using the spot-price at the time of the proposal + a portion in stables to cover token price fluctuations and protect the GTC treasury. For example if the sum of compensation + other expenses is $5M USD for the 6 months, and GTC is at $2/GTC, the budget amount is 2.5M $GTC + 20% or $1M in stables.
This is the maximum in GTC + stables we will pull from the treasury for six months of expenses - if the price of GTC drops further than expected, we would need to pull from our stablecoin reserves instead of spending more GTC for the remainder of the season's expenses. A Snapshot proposal would be required to send stablecoins from the treasury to the CSDO Multisig, and a "no" vote at this stage would signal that workstreams will need to find ways to further reduce costs and minimize operations to get us through to the next resource allocation.
Good treasury management practices for the CSDO Multisig can help us prevent the need to do this, and allow us to better handle market fluctuations - an ideal scenario would be converting a large portion of the 6-month funding to yield-generating stables, so that there is less uncertainty around being able to cover expenses in the short term.
Performance Evaluation
OKRs have not been an effective performance measurement tool for the DAO, and there is a large amount of documentation to show they don't work as performance evaluation tools in other organizations either.
In the existing model, workstreams essentially evaluate their own performance on OKRs that are designed to be unambitious to meet and/or prone to being framed in a way that makes them seem like they were met. This is demonstrated by the fact that 95% of S15 OKRs were marked as completed or on-track to be completed in S16 budgets - for most workstreams, the number is 100%.
In the new model, we propose moving accountability to where it should truly live in a DAO:
internally with core contributors across the DAO, and
externally, with Stewards.
We've received very positive feedback on our "Steward Health Cards" model for evaluating the performance of Stewards, and the idea of "Workstream Health Cards" has been floated on a number of occasions for accountability in the other direction. This component of the redesigned budgets presents an opportunity to implement Workstream Health Cards.
We propose agreeing on a set of 4-5 metrics that are closely tied to core values/principles we aspire to as an organization. Measurement of our alignment with these values will encourage us to continually push towards excellence in achieving them ("what gets measured, gets managed").
For the purposes of this proposal, let's start with the values of Communication/Transparency, Impact, Financial Responsibility, and Alignment/Collaboration, and Leadership.
For the Workstream Health Card, each workstream is evaluated internally and externally using a 1-5 Likert rating scale questionnaire for each of the five metrics, at a monthly cadence.
A questionnaire that can be used to measure the above metrics:
Communication + Transparency
I understand what this workstream has accomplished this month, as well as what's on the horizon.
It's easy for me to find information on projects this workstream is working on, and/or get in touch with someone for updates.
Impact
All of the work this workstream has completed/worked on this past month has been valuable to the DAO.
This past month, this workstream has played an important role in moving the DAO further towards achieving its goals.
Financial Responsibility
I believe that this workstream has used its resources effectively this past month.
I believe the value this workstream has delivered this past month justifies the costs to pay its contributors.
Alignment + Collaboration
I can easily see how this workstream's work in the past month fits within our Purpose and Essential Intents.
I can see how this workstream's work this past month fits in with what other workstreams are focusing on.
Leadership
I trust the leadership of this workstream to steer it in the direction that brings the most value to the DAO.
I believe this workstream holds its contributors to high levels of accountability.
Internally, this questionnaire is completed by all core contributors on a monthly basis for other workstreams (for obvious reasons, contributors don't fill out the questionnaire for their own workstream), during a 1-week evaluation period.
Externally, this questionnaire is completed by all Stewards on a monthly basis, during the same 1-week evaluation period.
The scores = the average rating received (between 1-5) for each of the components, with a separate Contributor and Steward scores. These are updated on the Workstreams tab on https://www.daostewards.xyz/, or other easy-to-find location.
Here is an artistic rendition of what a Workstream Health Card might look like (thankfully we have better designers in the DAO than the author of this proposal):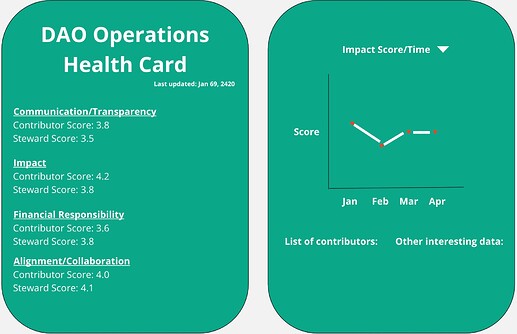 Front and Back of Workstream Health Card
Advantages of this approach:
This provides a more holistic look at how workstreams are performing, as evaluated by peers and Stewards rather than themselves
Much less emotionally-taxing/burdensome for workstreams
Doing this at a monthly cadence instead of every 3 months gives workstreams more opportunities to detect shortcomings and course-correct
Provides a direct and regular touchpoint between Stewards and workstreams, and incentivizes workstreams to improve context-sharing with Stewards
Encourages collaboration, creativity, and long-term thinking as performance-measurement is no longer tied to fixed independent goals, but to the overall value added to the DAO
Note: This proposal only focuses on the workstreams' performance - for contributor performance we will continue to work with our existing peer review system within workstreams, and an adapted version of this for CSDO member performance.
Assumptions
Stewards are interested in engaging with strategy and goal-setting, and will find it easier to understand costs once they are aligned on direction
The additional opportunities for input from stewards will allow us to make better decisions and increase accountability, rather than becoming a distraction or time-sink
Strategy/objective-setting, resource allocation, and performance evaluation are a good way to modularize the existing budgeting process to make it more effective
We can stay aligned and build towards our goals without a rigid, but thorough, OKR-setting process every season
Evaluating workstreams on more generalized "values" rather than outputs (existing traffic-light system) will lead to better performance and increased accountability
If successful
Stewards will find it easier to understand the context surrounding the DAO's work (through the forecast), and be able to make more informed decisions
We'll see higher energy around governance outside of resource allocation debates
While it may not reduce the time required to do budgets, it'll reduce the emotional burden as planning is more fluid, and performance isn't tied to delivering on fixed outcomes
Workstreams will be able to better adapt and respond to market signals rather than fixating on pre-set OKRs
We'll see an increase in collaboration, alignment, and truly cross-stream projects, as workstreams are evaluated on the value they've added to the DAO and not just on their own independent projects
It'll become simpler to track workstreams' performance and improvement over time
Accountability will increase, with more regular (monthly) scorecard evaluations
We'll set more ambitious targets instead of ones we're afraid of missing
For future adjustments, it'll be easier to incrementally fine-tune just specific modules of this process without affecting the entire system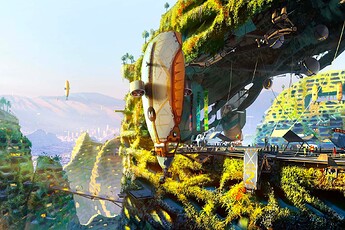 The world if this budgeting redesign is successful
Risks
Forecasting is hard to do due to the dynamic nature of the space, and the DAO isn't practiced in this. If there isn't clarity/leadership on how to do this well, we might slip back to old habits and keep relying on internal signals for planning instead of responding to external challenges and opportunities.
If the assumption that we don't need rigid workstream-specific OKRs in order to build things proves to be wrong, this could lead to workstreams struggling to find direction without them.
This process is longer and proposals will spend more time on the governance forum from start to finish (2-3 weeks in seasons without Resource Allocation, 4-5 weeks in seasons with a new Resource Allocation proposal) - workstreams/Stewards could lose energy to continue participating in these discussions.
If the price of GTC falls much more than 20% since the previous Resource Allocation proposal, we'd have to tap into stables through a Snapshot vote that could fail at the governance level, possibly necessitating layoffs and/or other difficult decisions.
As with any large change in organizational process, there are risks associated with how this is implemented and communicated, and the adjustment-time needed for contributors to become comfortable with a new way of working
Open Questions and Call to Action
As DAO Ops continues to evaluate and make tweaks to all our operational procedures, budgeting being one of the most important, we hope we'll continue to increase their effectiveness as well as value to our Steward community. The above proposal has been discussed at CSDO internally as well as with some of our most engaged Stewards, but still remains very much an open proposal.
We also have a few open questions that would be great to have additional input on:
There has been a request for some Stewards to have fixed DAO/workstream budget caps. If we went down that path, how would these budget caps be decided? Would the cap be a percentage of available treasury? Is it tied to performance?
How do we reconcile transparency with the need for efficiency? This budget process is designed to be more transparent and provide better context for Stewards to engage, but is also longer. There have been several calls for greater transparency from the DAO, and the creation of the Steward Council and this budget redesign are some of the ways we are working to resolve these tensions.
Is there appetite and capacity from the Steward community to engage in more planning/strategy and performance-evaluation discussions?
The DAO is also interested in an alternative (likely post-protocol launch) exploration into shorter budget cycles and thinner workstreams. Is there a way to reconcile this and the composable approach to budgeting described above?
Given this redesign process and our efforts to incorporate the Steward feedback we receive to create a proposal that best enables the DAO to fluorish in an uncertain market, we will likely need to request a "bridge budget" for the DAO to continue operations until a new solution is reached. Your feedback will help us expedite the creation of a new process so we can minimize the period we would need these bridge funds for. We'll have a much clearer idea of timeline once a final decision has been reached.
The budgeting process is a lot more than how we spend our resources - it's also how we strategize and plan our work, share context with and stay accountable to Stewards and the wider community, and ensure alignment on shared goals - your input on helping us build a process that enables us do all of this more effectively is very appreciated.