Where Greenpill.network has been
v1 - 2022
For the last 18 months, I've been producing the Greenpill podcast, a podcast dedicated to regen web3. Thanks to the generous partnership of Bankless, we have an audience between 2k-8k (depending on the episode) per episode. This has been a great resource to create little pockets of common knowledge about technical concepts like Cluster Mapping, coordination mechanisms, sybil resistence, but also advance cultural movements like solarpunk, DAOs, network states, web3 in the global source, etc. We've had industry luminaries like Vitalik Buterin, Karl Floersch, Nadia Asparouhova, and others on the pod (sometimes multiple times). I've done 155 episodes together, to see the different categories of podcasts we've done click here.
v2 - 2023
6 months ago we launched Greenpill v2 AKA Greenpill.network, which using the Greenpill podcast as an attractor, launched what we call a "CoordiNation across Nations & Cultures. CoordiNation (noun): a network-society that exports regenerative digital infrastructure to the world.". We now have recruited @sejalrekhan as community manager/operational lead, and we now now have 13 active chapters in places as diverse as NYC, Denver, Nigeria, Turkey, China, India who run local meetups and build momentum regenerating local communities. My vision is that each local community member has the global context of regen web3 & the mechanics/software that can be used AND ALSO has the legitimacy/networks/relationships in the local community. This feels like a very powerful combination for local bottoms up movement building. Using this network, combining with Gitcoin's tools, we could bootstrap a network of better impact funding.
Where Greenpill.network is going
v3 - 2024
I wanted to give some updates about changes in the network for Q4 2023 and 2024.
We will be spinning the podcast out of Bankless at the end of October. I'm super thankful to Bankless for getting us started, and I'm proud of the 150 eps we've done together. And very thankful they will be letting us take the audience with us. I've hired an independent podcast editor to continue producing/distributing the podcast, and plan to continue producing it independently. But I don't have the cycles to keep producing it 2x/week, so I'm thinking about moving to dropping 5-10 episodes per quarter all at once, allowing people to binge listen when they're dropped.
I've been busy with my return to Gitcoin, and have been fairly absentee in the Greenpill.network discord / community lately. I want to own this. I think there is an opportunity for me to pass the torch to people who are stepping up in the Greenpill.network community to lead the network. (meta point: its cool that im leaning in at Greenpill when leaning out at Gitcoin, and visa versa when I lean in at Gitcoin I lean out at Greenpill.network. Both networks are ebbing and flowing together hehe )
To the end of elevating other members of the network, we've got some really exciting opportunities for members of the Greenpill.network or GItcoin who want to step in.
Here is a visual of what this evolution looks like.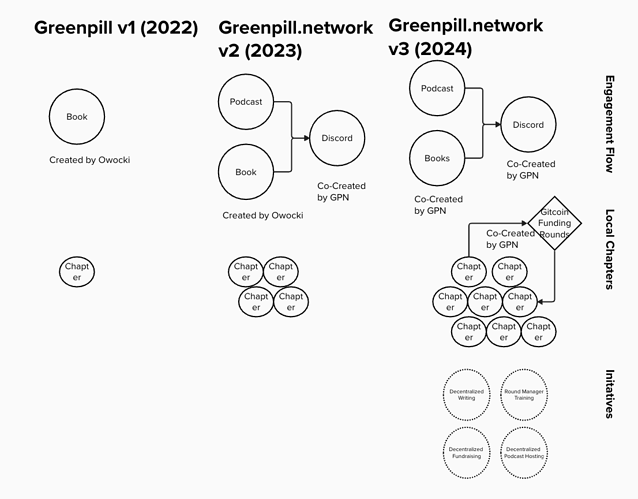 Any questions/comments/feedback lmk