Introduction
The Gitcoin Program Beta Round is the second set of Gitcoin Program QF rounds that will run on the new decentralized Grants Stack. The planned dates for this round are April 25th to May 9th and there will be 5 Core Rounds each with a distinct matching pool:
Climate Solutions
Ethereum Infrastructure
Web3 Community & Education
Web3 Open Source Software
ZK Tech
As we continue our efforts to decentralize and shape the new Gitcoin Grants Program, these rounds were chosen from a larger pool by the community through a Snapshot vote.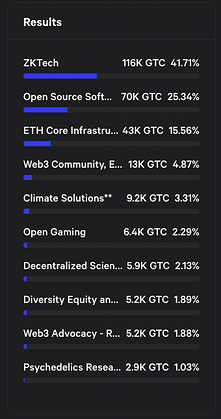 Note: There will also be a number of externally operated Featured Rounds that run in this same 2-week window; the details of which are still being determined.
The purpose of this post is to outline the general eligibility policy that ALL grants must meet in order to qualify for acceptance into any of the 5 core rounds. In addition to the general eligibility, grants must meet the extra criteria for the round they are applying for. The description of each specific round's eligibility criteria is listed after the general eligibility policy.
The PGF team is asking DAO contributors, stewards, and community members to carefully read these eligibility requirements and provide feedback or engage in an open discussion where needed. The requirements are subject to change but will be locked in before the application window opens.
---
Gitcoin Program General Eligibility Policy
This policy is set and enforced by the FDD & PGF workstreams of the GitcoinDAO and is ratified by the GitcoinDAO stewards. The following are not permitted in Gitcoin-operated rounds:
Hateful Content - No racist, sexist, or otherwise hateful speech, no discrimination
Deceiving Users - Malicious content that could cause harm or unintended consequences to users
Falsification - Any type of hacking to falsify a contribution is prohibited. No encouraging or enabling Sybil attacks or other forms of malicious manipulation of the grants platform or the Gitcoin community
Fraud & Impersonation - Claiming to be a brand or person you are not. The Grant owner must be directly affiliated with the project, the funds must go to the project, and be used for the purposes stated in the Grant's details
Quid Pro Quo & Bribery - The Grant may not have any form of quid pro quo that has financial value (a scenario in which a user gets some additional unique benefit/award in return for their donation)
Advertising - Using grants to showcase something you are selling like a token sale or NFT drop
Well-capitalized projects - Not have prior external funding of over $500k USD via venture capital, token launches, or NFT sales
Grantees cannot be subject to sanctions, and funding cannot be used in violation of any applicable law, rules, or regulations (for example those addressing sanctions, financing of terrorism, and anti-money-laundering)
Grantees can be eliminated from consideration in the round if they are found to be encouraging or enabling Sybil attacks or other forms of malicious manipulation of the grants platform or the Gitcoin community.
Additional criteria that projects must meet:
Project Update - If you are a returning grantee, you must provide an update on what work has been accomplished since the last grant round your project received funding from
Verified Github (if applicable) and/or Twitter account
---
Web3 OSS Round Eligibility
To qualify for the Web3 OSS round, in addition to meeting the criteria outlined in the program policy above, grants must:
Be an open-source project with meaningful Github activity in the prior 3 months that has demonstrated work completed towards the project's mission
Primarily focused on developing on top of or advancing the broader Ethereum and/or Web3 industry
---
Ethereum Infrastructure Eligibility
The Grant must be in support of, or directly advancing the Ethereum ecosystem. This includes areas like:

Core client devs (e.g., geth / nethermind; prysm / lighthouse)
Tooling providers (e.g., hardhat / ethers.js)
Those showcasing the power of critical ecosystem ideas (e.g., dark forest with zero-knowledge proofs)
Those doing the hard work of educating developers (e.g., Austin (Gitcoin) / Nader (DeveloperDAO))

The Grant must be open source (if software-related)
---
Climate Solutions Round Eligibility
Projects must be at least 3 months old. Newer projects should establish themselves and submit to the next round.

The Grant must be primarily focused on climate solutions (the group may do other work but the grant proposal should be directly related to climate solutions). The proposal should explicitly outline how this project will help reduce GHGs or is an important core infrastructure for web3 climate solutions.

Grantees who received funding in previous rounds should report on project progress since GR15 or the Alpha round. We understand that some projects may have less progress given the timing of Alpha round disbursements. This will ensure accountability to supporters and also help encourage contributors by showing what you've been accomplishing.

All returning grantees are expected to update their proposal, in addition to project updates the proposal should include lessons learned from previous work and how they will use the additional funding from the upcoming round. The updated proposal should indicate how additional funding will help the project meet its goals, and include a rough timeline for the project overall.

There is a general expectation that projects are within the "realm of viability".

Even if a project may be at a very early stage, it still must seem credible to the average person with an understanding of web3 technology and climate solutions.
Grantee founders must genuinely intend to build the project, and the project must not broadly be considered an impossibility.
---
Web3 Community & Education Round Eligibility
The Web3 Community & Education Round is a new category that has not been a Gitcoin Program round in the past; however there have been similar ecosystem rounds called 'Media' and 'Community'.
Reflecting on the Alpha Rounds and all the legacy "Main Round" grants, there were many great projects that couldn't join OSS due to specific "active OSS repo" requirements. In GR12 and before we had mutually exclusive categories like "infrastructure" "dapps" and "community" - and this would be like the old community category, which included podcasts, newsletters, educational projects, journalists, and more.
As we've now split open-source software into its own round, we will run this Web3 Community & Education Round to focus on non-software related projects that are helping to push the Web3 space forward.
The requirements to be accepted in this round are outlined below*:
The project must be focused on improving the Web3 ecosystem.
Examples of projects which may fit are those that are:

Growing new communities
Providing educational resources
Creating content (youtube tutorials, newsletters, blog posts, podcasts, etc)
Protecting users by investigating bad actors
DAOs focused on socialization
Onboarding new users
Working on inclusion/diversity/advocacy
*Note: As this is a new Core Round category, we'd love to have the community weigh in and narrow the scope or suggest more objective criteria.
---
ZK Tech Round Eligibility
The Grant must be in support of, or directly advancing the ZK tools, libraries, community, or protocols.

The Grant may not have any form of quid pro quo that has financial value (a scenario in which a user gets some additional unique benefit/award in return for their donation)

The Grant owner must be directly affiliated with the project and the funds must go to the project.

The Grant should be focused on accomplishing the following for ZK:

Usability - improving the user experience of zero-knowledge tools/libraries, not zero-knowledge rollups. This could also be technical education and documentation.
Tooling - improving the developer experience or making it easier to develop applications utilizing zero-knowledge proofs or technology.
Applications - technical implementations of zero-knowledge proofs and circuits, not simply applications built on top of zero-knowledge roll-ups.

The project should not have its own token or have raised VC funding (let's keep the funds for the aspiring projects!)

The project must have been active in the last 3 months - social media and GitHub.

The project should have demonstrated either concrete progress, or evidence of a substantive technical roadmap that clarifies how ZK technology will be used and advanced.

The Grant deliverables should be open source.
---
Conclusion
These eligibility requirements are designed to ensure we capture and provide funding to the highest quality projects in each category. As a reminder, the requirements are not yet set in stone and we are highly encouraging the community to discuss what makes sense and what could be changed. Thanks for reading this far and stay tuned for more updates!