Digest

#45:

Gitcoin UNICEF Alpha Round Kicks Off Tomorrow!
---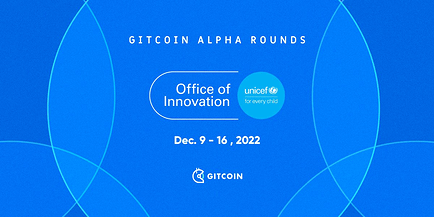 Our first Alpha Round, in collaboration with Unicef's Office of Innovation, is kicking off tomorrow!
There are 10 grantees in the round, working on providing socially-minded solutions in education, healthcare, climate, and financial services. You can read more about each grantee and how you can support their work in this post.
The round runs from December 9th-16th, and will be on ETH mainnet. This round with UNICEF will be the first of five test rounds run on our new grants protocol as part of Gitcoin's Alpha test season. You can read more about our Alpha test season here.
Also, there is a Twitter Space happening on Tuesday 12/13 at 2pm EST, where we'll discuss the round and talk about grantee-led projects. Schedule a reminder.
For information on how to donate when the round goes live on Friday, go here.
In This Issue of the Digest
DAO News
Content Roundup
Upcoming Events
Opportunities for Builders
---
DAO News
Also, there are five hackathons running on Gitcoin right now! Scroll to the bottom of the Digest to check out our Opportunities for Builders.
---
This Week's Content
This week, three new posts on the Gitcoin blog, and three new Green Pill episodes from Owocki!
---
Upcoming Community Events
If you have an event you'd like us to include in the Digest, reach out to @alexdw5 on Twitter or Discord.
Friday (12/9):
Tuesday (12/13):
2p ET – UNICEF Round AMA Twitter Space – Join us in welcoming the 10 grantees in the UNICEF Round into the Gitcoin ecosystem! Our hosts Azeem Khan and Ben West will share more on the participating projects and their intended impact, followed by Q&A. For more info, read our recent blog post about the partnership launch with Unicef. The round launches Friday, 12/9! Schedule a reminder for the Twitter Space here.
Next Wednesday (12/14):
12p ET – Gitcoin Community Call. Join us in the #dao-citizens channel for our weekly Gitcoin DAO-wide community call.
For up-to-the-minute updates on Gitcoin events, check out our Events Calendar!
---
Opportunities for Builders
---
---
Sign up here to get the Gitcoin Digest in your inbox.
Tell us how we can improve the Digest here!

---
—