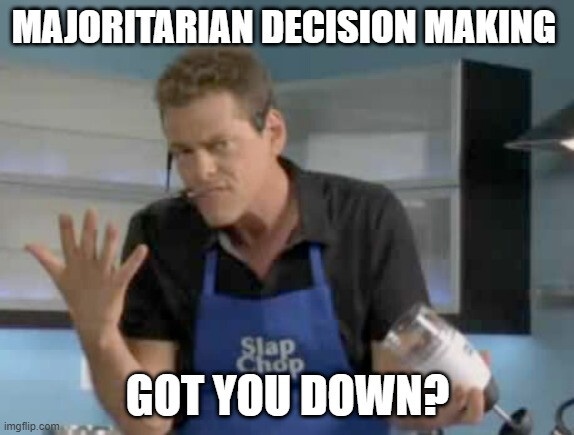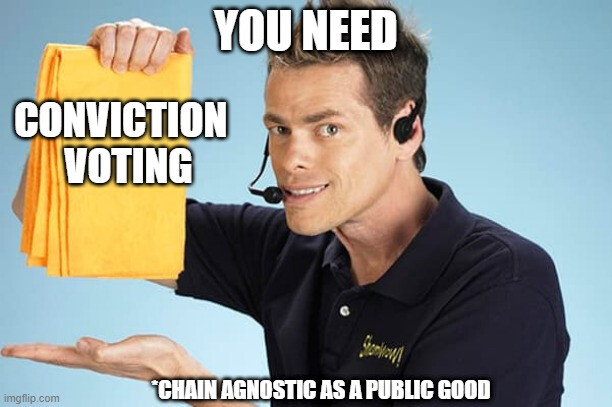 TL;DR
WTF is Conviction Voting?
1Hive built the first instance of a super handy tool called Conviction Voting.
If you haven't heard of it, here's the TL;DR tweet thread.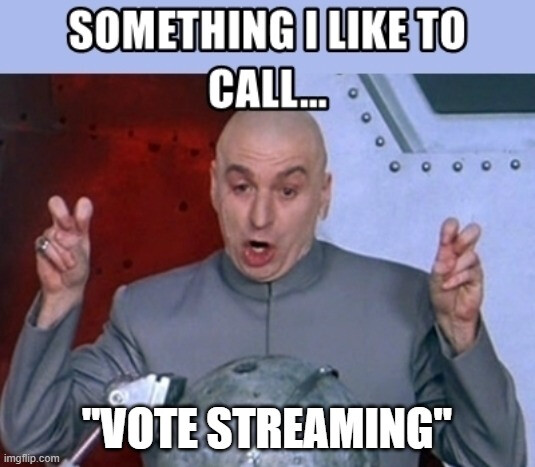 The Problem:
Many DAOs (including Gitcoin) are struggling hard with the same problems: Insurmountable overhead with keeping up with and voting on every proposal, all or nothing (1 or 0 analog) funding proposals votes like this one where there is significant support but not quorum, last minute vote swings and other governance "attack" vectors that require time weighted voting to correct and more…
A Solution:
The DAO buidler tool box must have Conviction Voting to more efficiently distribute & decentralize funding proposals and visualize dynamic average consensus signals.
The consent, rather than consensus based tool can help:
Increase operational efficiency
Mitigates many governance "attack" vectors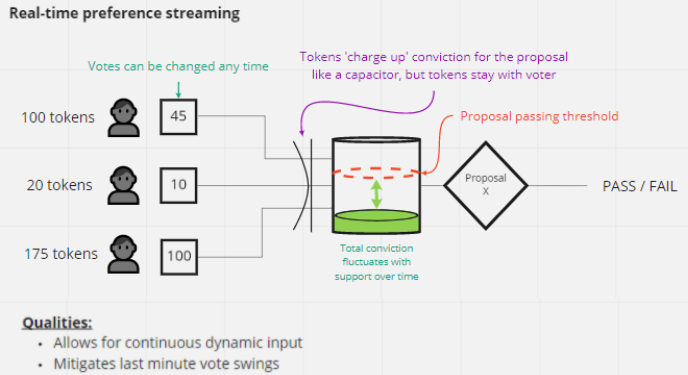 Image by Jeff Emmett
"CV shifts the governance space from majoritarian decision making towards sufficient support for proposals, based on the amount of funds they are requesting."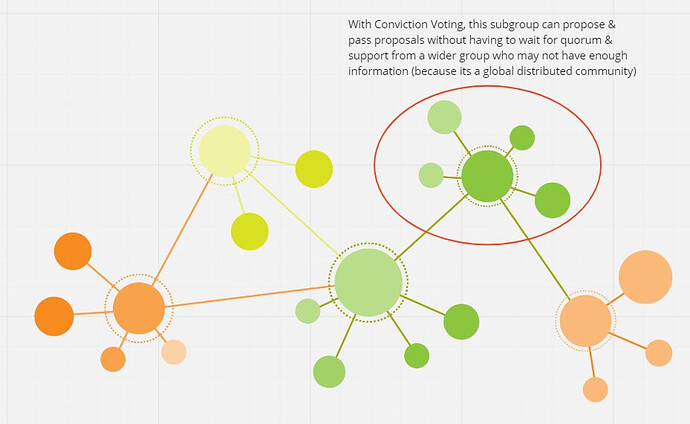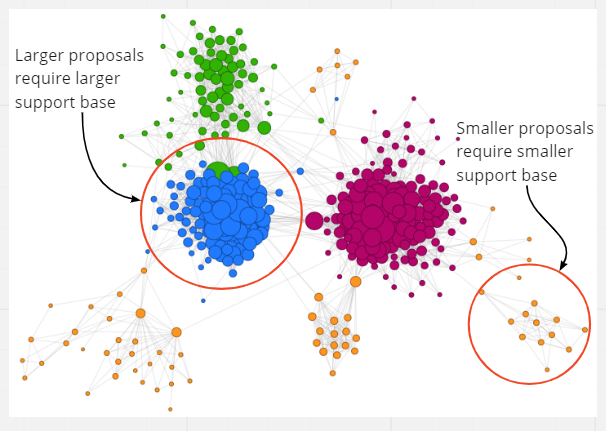 (Addressing plutocracy will require SSIDs/DIDs to scale in a meaningful way - I'm sure it won't be long!)
Oh and did I forget to mention it provides rich data streams of continuous preference signals?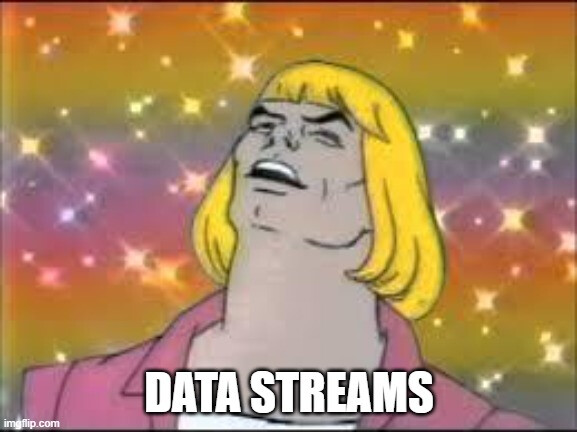 Who Am I (Reputation Flags)
I am a Founding member of the FDD Working Group, Token Engineering & Governance Researcher at BlockScience, Advisor & Course Author at the Token Engineering Academy, Trusted Seed Member of the CommonsStack, Ground Control at the Governauts & Founding Steward of the Token Engineering Commons.
Why We Need Moonshot's Support
My colleague, TE OG @jeffemmett & I have been chatting with @owocki and several others about the need to expand and create a public good, chain agnostic version of this tool.
I tried to rally some groups last year to fund/build this initiative but they all wanted their own version, to which the incredibly amazing, talented & busy lead engineer/developer of CV said, "Hey guys, I can't support 20 versions, let's build this in RUST." To which the groups said, "If we fund it, we want our way."
So, this is where the heroes of Gitcoin DAO & Moonshot Collective come in - the pan-ultimate supporters of public goods!

Okay, I it, Now What?
One note before I let you go - this tool is customizable: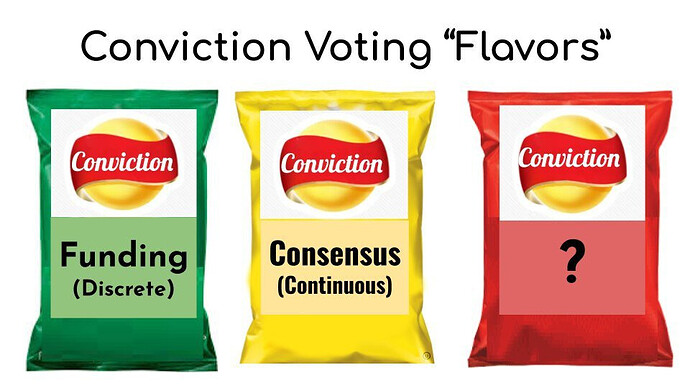 So, we can build something for funding, for continuous general signaling or ranking like a continous TCR - we definitely would need lots of discussion and some research with developers to figure out what would be the best, high leverage lego version that multiple DAOs could build on.
So, don't be shy and let's crank up the conversation on this thread - pass to your friends

and let's get the VC in the pipeline for the MC, who can be a hero for all DAOs - and build the chain agnostic version of Conviction Voting that we all need!

HOORAY!!!

NOTE: @jeffemmett & I are available (limited bandwidth) to support R&D and would also love to see some resources (a few others / CV team) to continue to expand content/education/research/documentation of these concepts/tooling/R&D

Thank you so much for reading and in advance, for your thoughts & support!


---

INTERDIMENSIONAL LIBRARIANS ONLY PAST THIS POINT

---
Deep Library: Conviction Voting-Funding / Signaling (Dynamic Average Consensus)
On chain
Documentation
Conviction Voting: Novel Continuous Decision making
[Presentation on Conviction voting by one of its developers, David Llop (Sem Brestels)](RadicalxChange Barcelona - Conviction Voting presentation by Sem - YouTube)
Dynamic Average Consensus: A Brief History of Conviction Voting
Tutorial on Dynamic Average Consensus: The Problem, Its Applications, and the Algorithms
Distributed Maximum Likelihood using Dynamic Average Consensus Algorithm
Implementations
Aragon Conviction Funding Pilot
(struggled because of gas prices back in the day, they had it on mainnet, most others are on xDAI - could also be built on ID chain for Bright ID)
1Hive Conviction Voting Discussion & Dapp Walk Through
(a bit outdated but some good general overview)
Token Engineering Commons Conviction Voting Test App Walk Through
Conviction Voting Used as Ranking/Signaling for Allocating Grants in CommonsStack Community
Off Chain