GM Public Goods Funders,
We are excited to announce the conclusion of our first-ever Jokerace! This contest was designed to garner valuable community feedback and feature requests after our most recent grant round, GG18.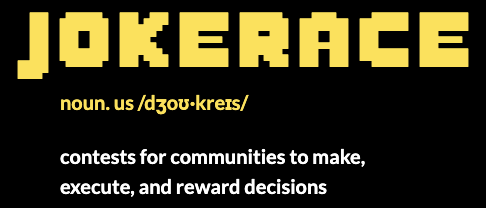 X


First off, a huge thank you to all those who participated, contributed, and voted! Your insights are invaluable for the ongoing development and improvement of Grants Stack and the overall program.
Contest Overview
The Jokerace was initiated to invite active members of the community to provide constructive feedback and feature requests that are directly relevant to Gitcoin and its operations. The contest ran from September 6 to September 20, with a week for submissions and another week for voting.
There were a total of 15 submissions and 295.64 votes deployed, check out the full results here!
Rules & Voting Mechanism
To ensure only those involved in GG18 could contribute, we set up rules governing eligibility:
Only wallets that donated in GG18 and payout addresses of GG18 grants could create submissions.
Feedback had to be pertinent to Gitcoin.
No spam, profanity, hate speech, or personal attacks were allowed.
The voting mechanism was crafted to reflect the degree of user involvement in GG18:
1-9 Unique donations = 2 votes
10-19 Unique donations = 4 votes
20+ Unique donations = 6 votes
GG18 grantee = 8 votes
Top 4 Responses
Here are the top-rated responses:
As promised, the submitters of the top 4 responses have been sent 0.03125 ETH (~$50 @ ETH value of $1600). Check the transactions here: 1, 2, 3, 4
Takeaways
Community-driven Feature Development: It's clear that our community is full of creative and insightful members willing to contribute to Gitcoin's evolution. Ideas like a recommender system and gas-back features are interesting and could significantly improve user experience.
User Experience and Accessibility: Suggestions about adding a comment section and creating shorter URLs signal that while our platform is functional, there's room to make it more user-friendly and interactive.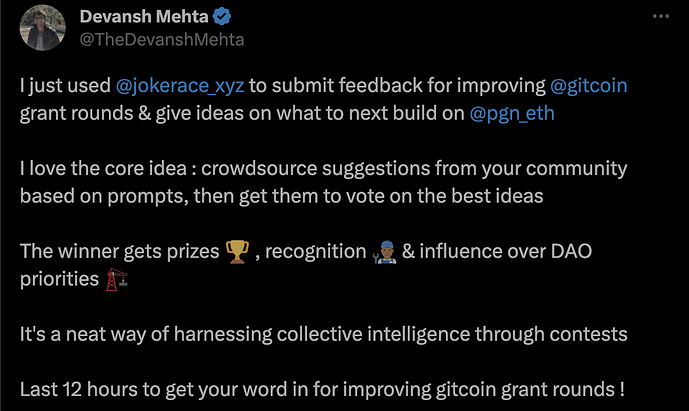 The Importance of Community Engagement
Running this Jokerace has demonstrated the immense value of community engagement. Not only do we get direct feedback from those who use our platform the most, but we also foster a sense of collective ownership and contribution. This sets the stage for more dynamic and responsive engagement cycles, ultimately benefiting everyone involved.
Looking Forward to GG19
The feedback received has helped to set the wheels in motion for what promises to be an even more successful GG19. We'll be closely evaluating these top-voted ideas and considering them in our development roadmap. Stay tuned for further product and program updates, and keep your eyes peeled for more Jokeraces in the future!
Thanks again to everyone who participated for your invaluable input. Here's to making Gitcoin an even better platform, together!