Sales Strategy Brief
This document describes Owocki's "Gateway Drug" Sales Approach, which was used for MetaCamp round last quarter, and I plan to use for a handful of upcoming rounds.
This sales approach is targeted at web3 native projects that have so much clout/legitimacy that we benefit from association with them.
Approach
Knock down all the blockers (ill pay the first $2k-5k, i can run the round for you, just introduce me to your favorite contributors)… just so they can taste the usefulness of Gitcoin Grants Stack.
Run the round lean/yolo/bootstrapped style. Deliver value.
Get feedback from the community, consolidate it into a wrap up post, and move on.
Sell to them again in future GG rounds.
Goals
One goal is to get as much product feedback on Grants Stack as possible.
Another goal is to minimize the barriers to doing a small pilot round, with the hopes that the pilot round is a "Gateway Drug" to more future rounds.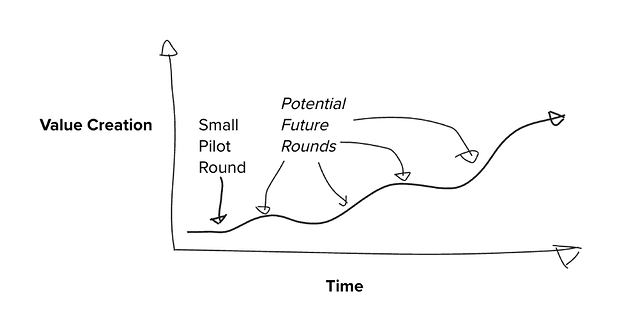 Criteria for success:
Do we get constructive feedback on Grants Stack?
Does running this round lead to the creation of future leads for Grants stack? Whether within this community, or other communities that participants of this grants round are in?
Are we educating people that we've moved from "Gitcoin Grants is for Ethereum" to "Gitcoin Grants is for any EVM based community"?
I plan to update this thread with answers to these questions in a quarter or two.