[Gitcoin Community Proposal] - Funding IndexCoop gtcETH offering
A HUGE thank you to @c-squared.eth, @funkmasterflex from the Index Coop community for drafting the majority of this GCP. You can find the full details of the IIP (Index Improvement Protocol) on their forums.
Summary
In partnership with Index Coop, we would like to propose the Gitcoin Staked ETH Index (gtcETH), which will provide diversified exposure to the top liquid staking tokens and share a portion of staking rewards with the DAO in support of public goods funding.
As part of this proposal, I am requesting we seed initial liquidity pool requirements to ensure this asset is available to those who would like to take advantage of it. That seed funding should come from the Matching Pool as the yield accrued will be used in the matching pool in the future (and we can always sell the LP position and recover our assets if we need them in the short term).
Abstract
gtcETH will enable token holders to access the top ETH liquid staking tokens through a single token while simultaneously contributing to public goods funding. gtcETH will employ the dsETH methodology, which promotes decentralization and competition amongst liquid staking protocols.
Motivation
Public goods are an integral part of Ethereum's past, present, and future. Ethereum itself is built on the premise that a wide variety of stakeholders can come together to build, and ultimately depend on, public goods that serve the collective interests of the community. No single organization embodies this mission as much as Gitcoin DAO. Since 2017, we have provided over $50m in grants and bounties funding to thousands of teams and developers. Raising funds for public goods, however, can be unpredictable and inconsistent because of the donation-dependent models in place today. DeFi–specifically liquid staking, streaming fees, and Index Coop–can help with this.
gtcETH gives token holders the ability to earn and share diversified staking rewards with the Gitcoin DAO by holding an index of the top liquid staking tokens and enabling a streaming fee. For gtcETH token holders, the annualized streaming fee of 2.00% (1.75% for the Gitcoin DAO and 0.25% for Index Coop) is collected in a passive fashion, so aside from buying and holding the token, gtcETH holders don't have to do anything to earn staking rewards for themselves and fund public goods. For Gitcoin, gtcETH provides a consistent, subscription-like revenue stream for funding grants and/or bounties as well as a low-friction access point for contributions. gtcETH also provides a positive-sum option for those considering donations because token holders retain price exposure to ETH and earn some staking rewards while simultaneously donating to public goods (versus an outright donation where the user must forfeit their ETH).
gtcETH will utilize the dsETH methodology and technology, so users can effectively distribute their stake across the top liquid staking protocols and earn an aggregate staking return (minus the streaming fee). Rather than selecting a single liquid staking token and concentrating risk, gtcETH token holders benefit from its innate diversification - both at the asset and the protocol layer. The methodology is also weighted towards protocols with more node operators and balanced distribution of stake, with the objective of encouraging decentralization and competition in the on-chain liquid staking market.
Specification
gtcETH will be built on Index Protocol and contain Rocket Pool, Lido, and StakeWise liquid staking tokens. Lido's stETH will be wrapped in order to accommodate its rebasing nature, and StakeWise rewards will be reinvested on a periodic basis into sETH2.
Flash Minting (and Redeeming) will be enabled at launch, allowing users to deposit ETH or ERC20s and receive gtcETH tokens in return.
Though there are many different liquid staking tokens in the DeFi ecosystem today, there are no on-chain offerings that enable users to earn staking rewards and contribute to public goods simultaneously. However, this table presents the liquid staking tokens that will be present in gtcETH and their respective yields:
| token | Issuing Protocol | Protocol Fees | APR (sources) |
| --- | --- | --- | --- |
| wstETH | Lido | 10% of rewards | 5.2% |
| rETH | Rocket Pool | 15% of rewards | 4.7% |
| sETH2 | StakeWise | 10% of rewards | 5.3% |
As a result, the initial composition for gtcETH will yield a 2.99% Net APR after accounting for the streaming fee (2.00% in total). This is a simple projection, and it is worth noting that a variety of factors - percentage of ETH staked, network fees, fee burn - fundamentally affect reward rates (thus yield is subject to change over time).
Example composition
dsETH will have the following composition at launch:
Rocket Pool rETH: 43.9%
Lido (w)stETH: 29.7%
StakeWise sETH2: 26.4%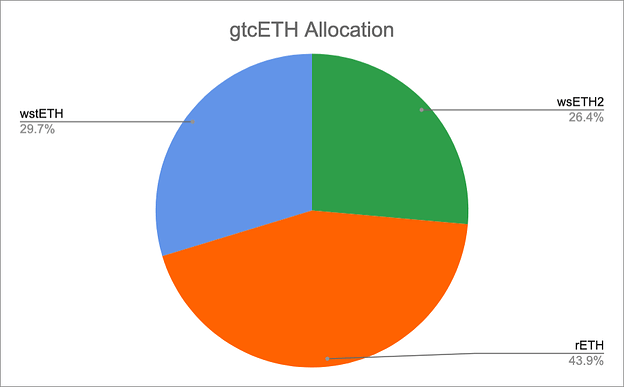 Rewards earned by the underlying assets will gradually accrue to the token's value and be realized in the form of price appreciation. The annualized streaming fee is captured block-by-block via inflation.
Backtest results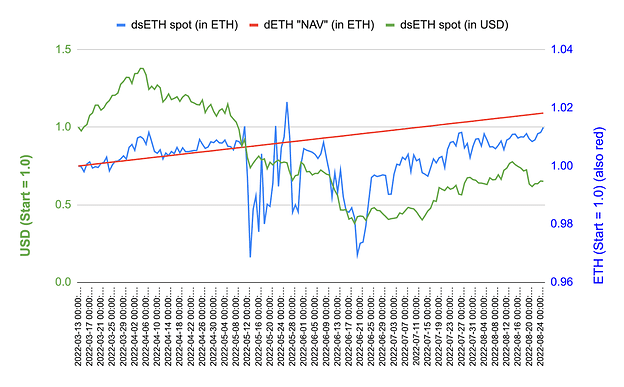 Backtest calculations are shown for March - August 2022. The former is the earliest date for which complete price history is available for all constituents. This plot is shown with dsEth, but gtcETH will be the same given its 1:1 pair with dsETH.
The green plot shows the price history of gtcETH in USD terms, the blue plot gtcETH spot price in ETH terms, and the red plot gtcETH "NAV" price in ETH terms. It is important to note that the gtcETH "NAV" price (red) assumes 1:1 exchangeability between the underlyings and ETH. The gtcETH spot price in ETH terms (blue) can decrease due to decoupling between the underlying staked ETH tokens and ETH; an example would be the discounted exchange rate for stETH relative to ETH. Historical data on node operators were not available so we assumed a uniform allocation across the constituents.
Size of Opportunity
Over $50m has been donated to and distributed by Gitcoin since 2017 in support of public goods. The Gitcoin Grants program accounts for $32m of that sum, with a median value of $1.14 and an average value of $14.26. In simple terms, if a user were to hold 1 gtcETH token for a year and earn a 5% gross staking APR during that time, their gtcETH token would ≈ 1.03 ETH and they will have contributed ~0.0175 ETH to Gitcoin over that period; applying a constant ETH price of $1,700, that contribution would be worth $29.75, or double the average historical contribution.
Additionally, at a TVL of $1m, gtcETH would contribute ~$17,500 annually to Gitcoin Grants. On a quarterly basis, this would earn gtcETH a top ten spot in Gitcoin's Funders Leaderboard while also earning gtcETH holders the net staking rate themselves.
Benefits
Given the size of the opportunity, and the simple rebalancing, this initiative would yield an always on source of funding for our Matching Pool. The product is based on the dsETH product and benefits from the security and contract audits to ensure users funds are secure and able to participate in the yield from the collection of underlying assets.
This is also Gitcoin's first opportunity to partner with Index Coop on a novel mechanism for funding public goods. Index has been a leader in the index fund creation and management having created multiple index funds to enable exposure to a basket of tokens without requiring users to be experts in selecting those tokens. In our case, we receive the upside and knowledge of the product while offering users the ability to fund public goods in a way that grows the value of their investment, and our funding for public goods.
gtcETH will offer a funding option to those who dont always know which grants to select themselves. The yield from both the index, and the liquidity pool position will yield funding results for the DAO and the matching pool.
Drawbacks
This product (gtcETH) will be tied hand in hand to dsETH – while this has many benefits, it also has the drawbacks that any negative outcomes of dsETH will also affect gtcETH. It is worth noting, that while the majority of fees for gtcETH will be going to public goods, not 100% of the fees will be going to public goods as Index Coop will retain their same 0.25% fee.
We will be withdrawing a modest amount of ETH to help seed the liquidity pool and ensure future gtcETH holders are able to swap into the position. This ETH is just sitting in our matching pool today, not "working" for us, but by moving it to an LP there is always the risk of impermanent loss.
Vote
I am requesting a vote that will accomplish the following (a yes vote would do…):
Formalize the relationship between us and Index Coop and enable co-branding and marketing of the new gtcETH product (if it passes the Index Coop governance)

Move 100 ETH from the matching pool multi sig to fund two LP positions (50ETH each LP):
2.1 pair gtcETH against dsETH in a 1bp pool
2.2 pair gtcETH against ETH in a 5bps pool
(The two pools ensure deeper liquidity and reduce swapping fees for moving into gtcETH while also ensuring arb opportunities exist between dsETH and gtcETH to ensure they stay near parity in price)

Work with Index Coop to rebalance the product on a ~quarterly/monthly cadence as needed.
A no vote would prevent us from funding the initial liquidity, but may not materially change Index Coop's decision to build and launch the product for us.
Revision history
[2022.02.20] Made some updates to the impact results Gitcoin has had. Thanks @umarkhaneth for the suggestions.