Hello

Everyone…!
We would like

to introduce our first grant round launch which is now live on Gitcoin !!
Fractal Visions Public Goods Funding reiterates the ethos of both Optimism & Gitcoin …!
We have started our Pilot Program on Optimism with the plans to expand to PGN & BASE network in 2024 with similar campaigns that are all consecutive.
Our project aims at providing grant funding to many projects that also align with the ethos of Public Goods.
You can always find more information here.
grants.fractalvisions.io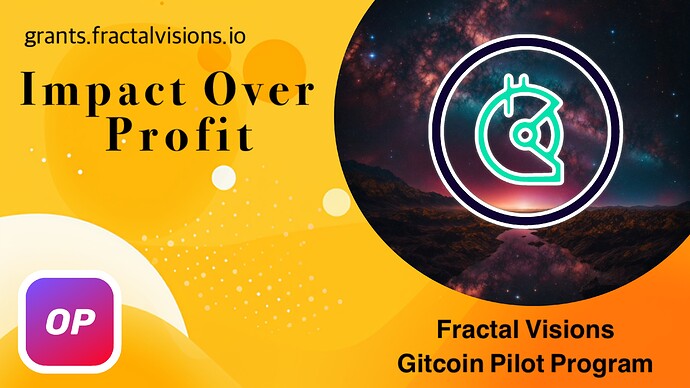 Fractal Visions Mission Fund
The Fractal Visions Mission Fund is for fellow impact makers in web3 who are building projects that contribute to public goods. Utilizing the Optimism network & Layer 2 scaling blockchain technology with the Gitcoin Grants Stack gives Fractal Visions ecosystem the opportunity to reiterate Quadratic Funding with the "Mission Fund" as the public goods community grows.
The community can choose from a selection of different categories that align with their vision and values regarding the future of blockchain development.
The "Fractal Visions Mission Fund" further expands the scope of participation within the niche community of impact makers from the very early beginning of a regenerative movement. Each "Mission" from the Pilot Programs help contribute to momentum of the public goods flywheel every QF round.
- Fractal Visions Mission Fund -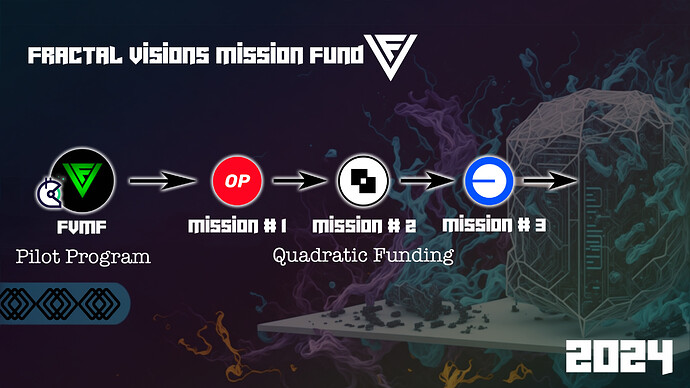 The intent of the Pilot Program is to build a Matching Pool of rewards for the Quadratic Funding mechanism that Fractal Visions ecosystem has established for creators & builders who will be based on the following genres.
Decentralized Vibrations
Psychedelic Visuals
Artificial Intelligence
Regenerative Finance
Decentralized Science
- Fractal Visions Mission #1 -
Bi Monthly Builder Meet Up
Please attend the Fractal Visions meet up

for Q & A office hours.
Here is our schedule for events.