Firstly, I want to say a big thank you to @j9leger and @M0nkeyFl0wer for co-authoring the below, @koday @umarkhaneth for helping with all the analysis, and @nategosselin for helping with all the analysis, and @nategosselin & the GPC team for helping bring these alpha rounds to life.
TL;DR
Governance has approved the decision to sunset cGrants and transition to the Grants Protocol
GR16 will not happen in December and instead we'll run an Alpha Round on the protocol in January with the goal of testing the product while supporting established grantees
The Alpha Round will consist of 3 separate matching pools: Open Source Software, Ethereum Infrastructure, and Climate Solutions
These rounds will only be open to a subset of existing grantees with a goal to support about 300 projects in total
We've considered many different options for which grantees to include and will invite 40 grantees in the climate round with 10 additional bundled projects, ~250 in the OSS round and ~30 in the Eth Infrastructure round
We've included our analysis of how we came to a decision for the OSS and Eth Infra round structure for those interested and are open to feedback on the criteria we landed on
Context
As many of you know, the past few months have been filled with discussions and posts about the upcoming launch of the Grants Protocol, the Future of the Grants program, and how the DAO can best enable the Protocol Flywheel to thrive.
After lengthy, productive discussions about GR16 and the protocol transition, a new option was crafted based on community feedback. The revised proposal replaces GR16 with a streamlined alpha round on the new protocol in January, focused on mission-aligned themes, and with a subset of existing grantees. This ensures core grantees still receive the funding they rely on, while allowing the DAO to focus on the full protocol launch in early Q2 with opportunities to iterate based on user feedback. As of last week the Snapshot vote for this option passed almost unanimously; 99.98% in favor! [Bonus - See Messari's Governor Note for a consolidated overview of this debate and proposal]
You heard that right - it's finally time for cGrants (aka centralized grants, the QF platform we all know and love) to be retired, after almost 4 years since it launched. The first QF round on cGrants in February 2019 had a $25k matching pool, which inspired 200 donors to contribute an additional $13k, raising $38k total for Open Source Software. We're now 15 rounds in and have facilitated $72 million in funding for OSS and public goods. Since the GitcoinDAO was formed, a primary mission has been to create a decentralized and modular Grants Protocol, and we're finally taking the leap into this next iteration. That said, for grants that are still using cGrants for ongoing one-off donations, you'll be able to do so for the foreseeable future.
Over the next few months we will focus on running alpha rounds to ensure that we continue to support early-stage builders as we transition to a decentralized, scalable solution that will support many more communities in funding their shared needs. This will include the January Gitcoin Program alpha rounds that we will run in lieu of GR16, smaller test rounds, along with various external rounds with design partners who will launch grants programs of their own to help test the protocol.
The Gitcoin Alpha rounds will be focused on Open Source Software, Ethereum Infrastructure, and Web3 Climate Solutions. We proposed these themes as they are our longest-standing Gitcoin rounds and are at the heart of the mission to fund public goods in our community. We used our community discussion and vote to help frame these rounds.
For more information on this decision and transition, see the latest blog post - ​​Announcing the decentralized future of Gitcoin Grants.
Now that we've reached consensus on the high-level path to launching the protocol, it's time to plan the specifics of what the Gitcoin Program alpha rounds will encompass.
Round Structure:
The governance debate and decision established a few key points:
The substitute for GR16 will run on the protocol in January with a reduced scope

This enables the DAO to focus on purposeful onboarding and gathering user feedback, helping to make the protocol transition and launch a success

The initial rounds we'll focus on are Ethereum Infrastructure, Open Source Software, and Climate Solutions

Supporting Eth Infra and OSS have been core pillars of the Gitcoin mission and community since day 1
Climate Solutions has become the biggest and longest-running Cause Round, spearheading the effort to bring QF out of the Web3 niche. It is also an area where open-source blockchain-based tech is enabling cutting-edge opportunities to address this issue that threatens everyone worldwide

These initial rounds will only be open to a subset of projects that have participated in previous Gitcoin Grants rounds

In recent rounds we've received a huge influx of new grant applications - a notable amount of which are fraudulent, Sybil attackers, or simply not a great fit
While we don't mean to exclude legitimate new projects, to mitigate risks while testing our new product features, reducing the application review process to verified existing grants will help us prioritize a successful launch to support the broader community in subsequent rounds
Determining Round Criteria:
Participation will only be for a limited subset of existing grants from GR14 and GR15 to facilitate efficient onboarding and testing. Additionally, the three rounds will be independent with separate matching pools, where a grant will only be in allowed into one round (so Eth Infra and Climate projects won't be able to also join the OSS round). This restriction is temporary, but for the January Alpha Rounds, we want to prioritize including as many unique grants as possible.
In an effort to provide more context on our decision making and the state of the protocol - another reason for the 1 round limit is that each round's donations and CLR calculations will be fully independent from one another. On cGrants when a project was in multiple rounds concurrently, any donation would earn additional matching from every pool the grant was a part of. In the early protocol rounds this will not be the case; if a grant is in OSS and Infra, a donation can only be made in the context of one round or the other, since each round is a unique smart contract. This means a single donation will only increase matching from one of the two pools; to increase matching from both pools, 2 donations would have to be made, one within each of the 2 round contracts. While we are building the functionality to run "overlapping" or "meta" rounds where donations can earn matching from multiple pools at once, the January rounds will not have this feature.
Climate Solutions Round Criteria
The Climate Solutions round will include up to 40 individual blockchain-enabled climate solutions projects. We will also invite a range of grantees to be part of 10 bundles of projects grouped by use case and geographic location. This helps donors easily select areas to support in grants explorer and is a new experiment for how small grants can collaborate with one another to receive funding. These groups will likely be:
Renewable Energy financing and decentralized grids
Community Engagement (conferences, podcasts, arts, games, etc)
Carbon Markets
MRV and Oracles
Projects focused on Ocean, Forest, and Agriculture
Climate Research
Climate Advocacy and Activism,
Refi South
Projects on the African continent
Projects in Latin America
We will encourage & work to facilitate eligible Grantees to collaborate on shared projects and/or to set up fund-sharing "drips" to 5 or more Grantees or to one or more of the use-case bundles.
@M0nkeyFl0wer, our Cause Round lead has spent a lot of effort determining how to engage as many community members in the round as well as finding ways to include principles of diversity, equity, and inclusion in all cause round activities. Thoughts and feedback are welcome!
The Eth Infra and OSS Rounds
The Eth Infra & OSS rounds, however, will be more curated to limit the scale to a manageable capacity. We want to support as many grantees as possible while making this test successful so we can begin onboarding more rounds and grantees soon after.
After much consideration, we will run the two rounds separately without any grantee overlap (ie. those in the Eth Infra round won't also be in the OSS round). Both rounds would include grants that received over $1K total (donations + round-specific match) in GR14 or GR15, or grants that had at least 150 unique donors in GR14 or GR15. This would include inviting ~30 grantees for the Eth Infra round and ~250 grantees for the OSS round.
We're including our analysis that helped come to the above criteria below. If our analysis leads you to a different conclusion, we'd love to hear from you so we can consider alternative approaches.
Thanks for reading and we're looking forward to hearing your thoughts!
---
Grant Data Analysis
The following analysis compares various cases trying to answer the core questions of
How many grantees would be in each round if we're keeping our alpha rounds to no more than 300 grantees max
What is the best objective threshold for inclusion? (by either the amount raised by a grant in prior rounds OR the number of unique donors)
Grantees in One Round Only:
If we choose one round per grantee, then we can see how the number of grantees in the OSS and Eth Infra rounds changes as we adjust our thresholds. We haven't included climate round analysis as the above criteria leads to an inclusive round for all blockchain based climate solution grantees.
We looked at both the amount raised (donations + match) and the number of unique contributors as meaningful metrics to consider (with the caveat that Sybil attacks/airdrop farming is not uncommon). While the amount raised seems like it should receive the most weight, the relative impact of funding can vary widely between grants based on the team size, geographic location, upkeep costs, etc. After reviewing the data shared below in detail, it does not appear that either option will result in a significantly different group of grants but we included both metrics for transparency.
OSS Only Grantees in GR14/15 by Amount ($) Raised
(Using crowdfund + main round match)
How many grants are in OSS only and over the $X threshold? (not in Eth Infra or Climate)
| | Over $100 | Over $250 | Over $500 | Over $1k | Over $2.5k | Over $5k |
| --- | --- | --- | --- | --- | --- | --- |
| GR15 | 377 | 293 | 220 | 147 | 77 | 43 |
| GR14 | 428 | 310 | 235 | 167 | 105 | 69 |
| 14 OR 15 | 584 | 444 | 341 | 240 | 146 | 90 |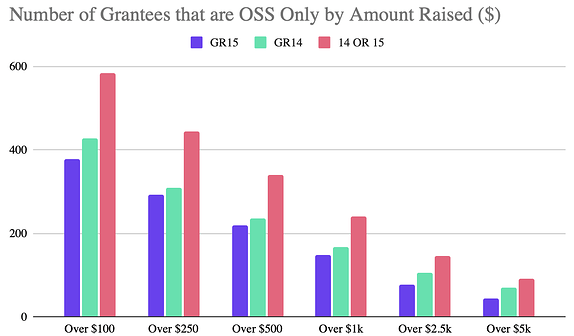 OSS GR14/15 Unique Contributors
How many OSS grants had over X unique contributors in GR14 and 15?
| | Over 25 | Over 50 | Over 75 | Over 100 | Over 150 | Over 200 | Over 300 |
| --- | --- | --- | --- | --- | --- | --- | --- |
| GR15 | 319 | 247 | 206 | 175 | 135 | 112 | 88 |
| GR14 | 338 | 261 | 224 | 201 | 171 | 147 | 121 |
| 14 OR 15 | 461 | 360 | 307 | 271 | 224 | 192 | 154 |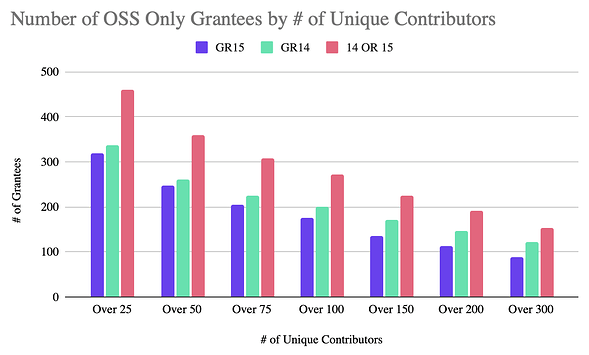 ETH Infra Grant Data Analysis
How many ETH Infra grants are over $X threshold? (Using Amount Contributed + ETH Infra Match amount)
| | Over $100 | Over $250 | Over $500 | Over $1k | Over $2.5k | Over $5k |
| --- | --- | --- | --- | --- | --- | --- |
| GR15 | 34 | 33 | 30 | 28 | 25 | 23 |
| GR14 | 29 | 28 | 28 | 26 | 20 | 17 |
| 14 OR 15 | 36 | 34 | 33 | 32 | 27 | 24 |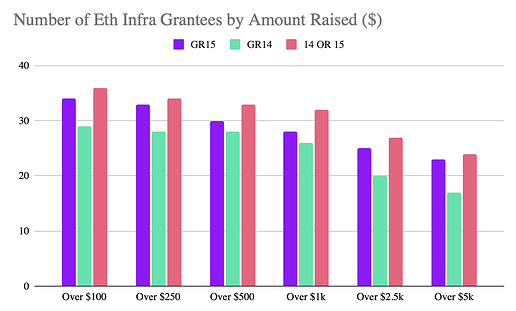 How many Eth Infra grants has over X unique contributors in GR 14 or GR15?
| | Over 25 | Over 50 | Over 75 | Over 100 | Over 150 | Over 200 | Over 300 |
| --- | --- | --- | --- | --- | --- | --- | --- |
| GR15 | 30 | 28 | 26 | 25 | 24 | 23 | 21 |
| GR14 | 28 | 26 | 25 | 24 | 19 | 19 | 16 |
| 14 OR 15 | 34 | 31 | 30 | 28 | 26 | 25 | 23 |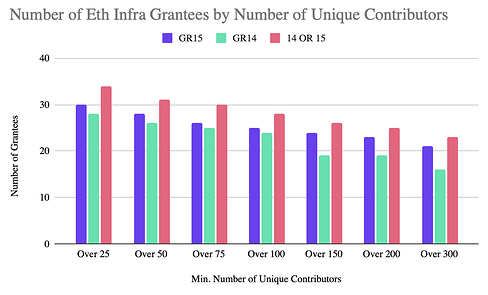 Grantees in Multiple Rounds:
How would allowing grantees in multiple rounds affect the outcome? The biggest difference would be the OSS round now includes grants from Eth Infra and Climate, however, the Eth Infra and Climate rounds would not be affected. For the purposes of this analysis, we can take the max-case and assume that all grantees in the Eth Infra and Climate round could be eligible for the OSS round. The likely number will then be a bit smaller than projected below as some Climate grantees would not qualify.
OSS (including Eth Infra and Climate Grantees) Combined Round Analysis:
| | Over $100 | Over $250 | Over $500 | Over $1k | Over $2.5k | Over $5k |
| --- | --- | --- | --- | --- | --- | --- |
| GR15 | 439 | 354 | 278 | 199 | 109 | 68 |
| GR14 | 477 | 356 | 278 | 206 | 132 | 88 |
| 14 OR 15 | 648 | 506 | 402 | 298 | 184 | 117 |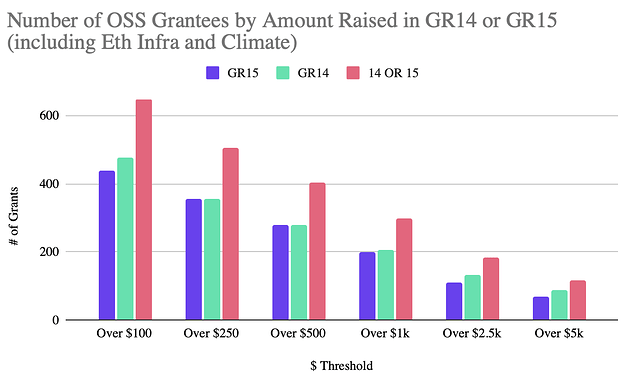 The overall effect on the number of grantees in the OSS round if we allow grantees to be in multiple rounds can be seen in the below table and chart.
| | Over $100 | Over $250 | Over $500 | Over $1k | Over $2.5k | Over $5k |
| --- | --- | --- | --- | --- | --- | --- |
| OSS One Round Eligible | 584 | 444 | 341 | 240 | 146 | 90 |
| OSS Multi Round Eligible | 648 | 506 | 402 | 298 | 184 | 117 |
| Difference | 64 | 62 | 61 | 58 | 38 | 27 |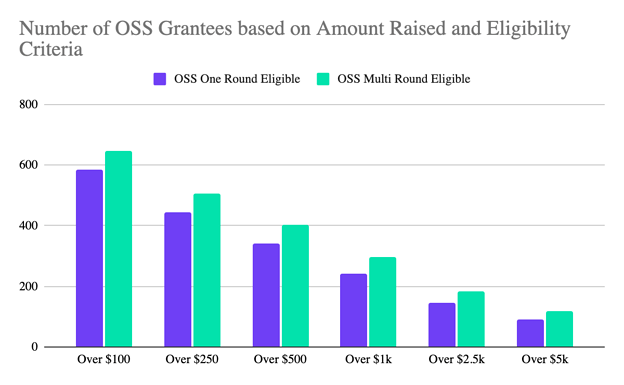 Our decision not to go this route is because we didn't think it fair to include a subset of grantees in multiple rounds while others aren't able to participate at all. Additionally, grants only in the OSS round would now have greater competition. Finally, with each round independently contained in a unique smart contract, a grant being in multiple rounds at once may not create the best UX until more features are deployed.
Conclusion
Thank you for reading this far! Keep in mind this is our analysis based on the data we've collected in recent rounds. If you believe we should consider changes to our approach, or have ideas of other areas where we should dig deeper into the data, please let us know. This is our tentative path forward as the round preparation has already begun, however this framework is still malleable. Your feedback is highly appreciated as we move closer to launching the Grants Protocol. Thanks in advance!