An ImpactDAO is any DAO that create positive externalities for the world.
ImpactDAOs are an up & coming money lego. ImpactDAOs are a building block for how Regenerative Cryptoeconomics grows into a Pluralistic Civilizational Scale Infrastructure for Humanity.
These positive externalities are not just financial externalities. They can be across many vectors They can be any of the 8 forms of capital.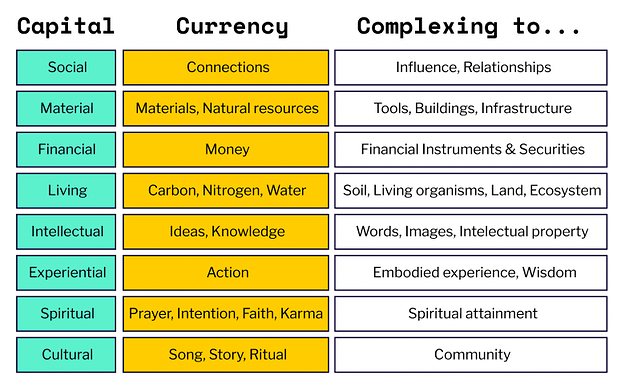 There are many different examples of successful ImpactDAOs in the world today on a diverse set of vectors:
| DAO | Positive Externality | Scale | Type of Capital |
| --- | --- | --- | --- |
| Proof Of Humanity | Sybil Resistance | 14k users | Social, Experiential |
| BrightID | Sybil Resistance | 55k users | Social, Experiential |
| KlimaDAO | Positive Price Pressure on Carbon Credits | ? | Living, Financial |
| GitcoinDAO | Public Goods Funding | $51m | Material, Financial |
| BanklessDAO | Education | ? | Cultural, Intellectual |
| Kleros | Dispute Resolution | 1.2k disputes | Social, Cultural |
Of course, the above list is just a start. If we want to avoid being seen as All Theory and No Action, it would behoove us to articulate the depth & breadth of the ImpactDAO stack is as legitimate of a way as possible.
Emperically, I've already experienced this.
In the recent Epicenter Podcast episode I recorded about Regenerative CryptoEconomics, I was asked several times for tangible examples of ImpactDAOs and their impact.
When Gitcoin launched in 2017, very few dApps had any adoption. We built $52.3m in Results | Gitcoin to articulate Gitcoin's impact & stand out from the crowd.
As more & more ImpactDAOs appear, I predict there will be an increasingly important job to be done of DAO cartography. Cartography is of course "the science or practice of drawing maps.", and we seek to create a map of different ImpactDAOS.
By cataloging these ImpactDAOs + articulating their impact to the world, we enable the world to see the power of Regenerative CryptoEconomics, and we can route talent to the places where they can do the most good for the world.
This post is a call for proposals from DAO Cartographers across the space to add value. If you have an idea for how we can document ImpactDAOS in a way that:
Has high legitimacy (highly accepted per the criteria laid forth here).
Has depth (accurate & relevant stats about each ImpactDAO).
Has breadth (has opined about most ImpactDAOs in the ecosystem)
Reflects the pluralism of this stack by articulating an ethos that celebrates the pluralism of mechanisms in ImpactDAOs.
… I would like to talk to you. Please (1) join this telegram (2) post a proposal below in 500 words or less that articulates how you would attack this problem and what would have to be true for it to happen (hint: please ask for funding, I want to fund good proposals!).
I have budget to fund as many promising proposals as I receive, and will decide how to spend that budget on a case by case basis.